This post contains affiliate links, and I will be compensated if you make a purchase after clicking on my links. There is no cost to you, and I only recommend products that I would use.
Welcome to SportyDogGuide's Which Size Furminator for Springer Spaniels recommendation?
What do English Springer Spaniels, Golden Retrievers, Bernese Mountain Dogs, and Rough Collies have in common? Each of these breeds has a long fluffy coat, particularly the undercoat, that requires brushing several times a week.
The most effective way I've found to keep shedding under control and to keep my Springer Spaniels' coats looking sleek and shiny is using the Furminator deShedding Tool.
My two Springer Spaniels both get short haircuts in the summer to keep them cool and to minimize shedding in the house. Even so, their undercoats and ears still need consistent grooming.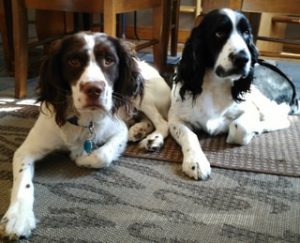 Winter in northern Wisconsin sees both dogs getting exceptionally furry and fluffy, and it's then when the Furminator becomes part of an almost daily routine. It's amazing how much hair this tool collects each time you use it.
The Furminator makes it easy to keep that extra hair under control. And it's easier when you buy the right size and style deSheddding tool for a Springer.
Which Furminator for Springer Spaniel? 
The Furminator is available in 5 sizes in corresponding colors: Extra Small (light green), Small (green), Medium (orange), Large (yellow), and Giant (red). You can buy each size in a short or long hair model. The short hair models feature a blue FURejector button, while the long hair models sport a white FURejector button.
The right size Furminator for a Springer Spaniel is the medium-size brush (orange) styled for long haired dogs (white button).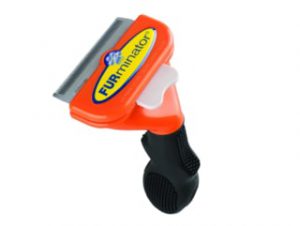 The medium Furminator is designed for dogs in the 21- to 50-pound range. The average Springer Spaniel weighs 42 to 50 pounds. Some males are larger than that. If you have a particularly large male Springer you might opt for the large size FURminator brush which is designed for larger dogs weighing 51 to 90 pounds. For most Springers, though, the medium size will be just right.
The long-haired version has longer teeth then its shorter counterpart, so you'll be able to reach deeper into the longer hair and the undercoat of your Springer Spaniel without extra effort. It is specifically designed for dogs with hair longer than 2 inches. Those longer teeth are very handy to get all the loose hair from your dog's undercoat and topcoat and any loose hair in general.
Easy To Use
The Furminator is also super simple to use. It has a slightly angled and textured handle that feels good in the hand. A FURejector button sits on the back of the brush. Push the button and it releases any dog hair collected in the edge. If there's a lot of hair in the edge, you may need to gently pull out some of it so the rest will fall out.
Effective
The Furminator works so well because the deShedding edge penetrates your dog's top coat. That lets you get at loose hair in the undercoat without damaging the skin. The Furminator's Edge is stainless steel, so the best approach is to use gentle strokes to ensure your dog's . By applying the right amount of pressure, you'll give your dog a nice little massage while cleaning up his or her coat.
The makers of the Furminator state that it can reduce dog shedding by up to 90%. I can't say for sure that it will do that for your dog, but I do know it's the most effective shedding tool that I've had in the house. And as a long-time owner of Springer Spaniels, I wish this tool had been around for the past 30 years.
The vast majority of other customers who've used the Furminator have had excellent success with it too. Even if you have a whole box full of other deshedding tools, brushes and a vacuum, you owe it to yourself and your dog to try the Furminator.
Conclusion
If there's a better product than the Furminator to keep pet shedding under control, I haven't found it. For around 25 bucks, you can get the perfect deshedding tool for your Springer Spaniel. Or a Bernese mountain dog, or Golden Retriever, or Rough Collie. The Furminator deShedding Tool is sturdy, effective and easy to use. It'is a must-have for any dog owner whose dog has a long fluffy coat.
Get Your Furminator Here