This post contains affiliate links, and I will be compensated if you make a purchase after clicking on my links. There is no cost to you, and I only recommend products that I would use.
Welcome to SportyDogGuide's Noblecamper review!
Camping with your dog can be a great way for the two of you to fully enjoy the nature experience. What can be better than sleeping under the stars on a nice summer evening? Doing so with your four-legged best friend!
Just like you would bring a comfortable sleeping bag and perhaps a sleeping pad for yourself, your dog deserves something nice and comfortable and soft to cuddle in it night.
There are many dog beds and lightweight sleeping bags on the market, so what's the best choice?
The Noblecamper 2-in-1 Dog Bed and Sleeping Bag makes it easy to give your dog a comfortable sleeping surface of his or her own with the extra warmth and coziness of a sleeping bag.
I knew the Noblecamper was different the first time I saw it. The design makes so much sense it makes you wonder why somebody didn't come up with it long ago. Not surprising, though, is that it took a dog owner to conceive and execute the idea.
Quick Conversion
The Noblecamper 2-in-1 is designed to go from dog bed to sleeping bag in three quick steps. First, take the Noblecamper out of its sack. Turn it over to the red side and unzip the bed. You can then flip it back over to the bed side, have your dog come into the bed and lay down, and then pull from the sides to cover him or her up.
See Current Price
Quality Materials
Dogs can be tough on gear, and the Noblecamper dog bed is built to withstand the wear and tear that can occur from your dog's nails rubbing and scraping against it.
The product sports a rip-stop shell and a liner made of Taslan nylon. Taslan is a woven polyester fabric that is strong, durable, wicks moisture and dries quickly. This helps keep the bed/bag dry and comfortable for your dog.
The sides and bottom of the Noblecamper contain a high-loft, poly-fill insulation. There's a full 1-inch of fill to keep your dog insulated from the ground, while the puffy sides provide a soft, pillow-like surface to rest on.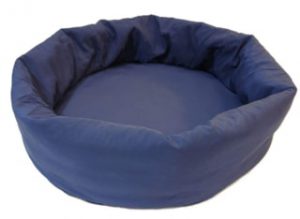 It's offered in one color pattern – an attractive red/blue combo.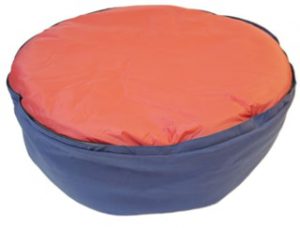 Sized for Curlers and Sprawlers
The Noblecamper dog bed comes in four different sizes: Small, Medium, Large and XL. They are sized based on how your dog naturally positions him or herself while sleeping. Some dogs like to curl up, while others prefer to stretch out. No problem there. The sides of the sleeping bag and the diameter of the bed are the same length, so the bed can be turned on its side if your pooch prefers to stretch out. Very cool!
Here is the Noblecamper sizing chart showing the bed best to fit comparable indicated breeds. The company notes, "If your dog likes to curl up like ours, take a measuring tape or string and measure the farthest dimension across your dog."
Small: 18 to 22 inches (Terrier)
Medium: 22 to 26 inches (Viszla)
Large: 26 to 30 inches (Weimaraner)
XL: 30 to 34 inches (Great Dane)
Each comes with its own stuff sack that you can use to compress and store the bed. This is very handy if you'll be putting it in your own or in your dog's backpack. It also makes it easy to store or keep in your vehicle without taking up much space. And the Noblecamper is very lightweight. The medium size, for example, weighs less than 2 pounds.
Stake or Dry
The bed also includes a trio of loops that can be used to secure it to the ground or to hang for the bed to air out and/or dry.
Made In America
I like that each bed is handmade and packaged in Pennsylvania. That certainly increases the cost of the product compared to those made in China and elsewhere, but it also assures you'll get a quality product each and every time. And while the company states that it currently sources up to 70% of materials in the United States, the goal is to eventually source 100% of materials domestically.
Customer Reviews
Others who have purchased the Noblecamper have said that it's exceeded their expectations, that it's durable, that their dog took to it right away, and overall it is a great sleeping bag well worth the money. 
Conclusion
The Noblecamper is genius in simplicity. The 2-in-1 design makes it a terrific choice for campers and backpackers who don't have room to carry a bed and a bag. And because it's lightweight, you or your dog won't be burdened with undo baggage even on extended trips. It's built to last and is our top pick for a lightweight backpacking and camping dog bed and bag.
To sum up, the Noblecamper dog bed beats the rest because it is:
A bed and bag in one simple-to-use product
Lightweight yet durable
Compressible and packable
Comfortable for curlers and sprawlers
Handmade in America
Where To Buy
The Noblecamper 2-In-1 Dog Bed and Sleeping Bag is currently sold on Amazon only, where you can find the right size for your dog here.