This post contains affiliate links, and I will be compensated if you make a purchase after clicking on my links. There is no cost to you, and I only recommend products that I would use.
Springer Spaniels are medium-sized dogs that make great family pets as well as hunting companions. 

They love to be outside, whether going for a walk, swimming, rolling in the snow, or just playing a game of fetch. Springers are happiest when they are active and around people. One of the easiest ways to keep your Springer safe and secure is with a proper-fitting collar.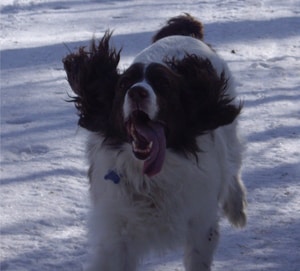 A collar is often the lifeline between you and your dog. It needs to hold up the stress of walks and general playing. It should last for years, even after it's been in water and muddied. Most dog owners attach some form of ID to the collar as well, providing the dog's name and phone numbers of its owners should the dog happen to get loose and wander. 

I also clip rabies vaccination tags on my Springers' collars – it's an easy way to show that your dog is up to date and protected against this deadly disease. It also has my vet's contact information – another safeguard should one of my Springers get loose.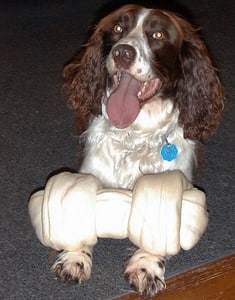 I think I've made my point that a collar serves many important functions. So let's look at specifics and how to buy the perfect collar for your Springer Spaniel 

Collar Size Matters – A Lot!
When choosing a collar for a Springer Spaniel there are several points to consider. The most important one is getting the correct size. Even though Springers are medium-sized dogs, don't make the mistake of buying a collar that is too small.

Whether you're buying a collar for a springer spaniel, or any dog breed for that matter, it's important to have a collar that can be adjusted down to fit. You don't want a collar that is so tight on your dog that it becomes a choking or breathing hazard or is just plain uncomfortable. It's better to get a collar that's a little longer than needed with some wiggle room that you can adjust to fit properly.

And it's important to note that Springer Spaniels have different collar size needs. Females will usually have smaller necks then males. Likewise a bench version Springer will generally wear its collar a bit bigger than a field Springer. That's because bench Springers often have much longer hair – particularly if they are show dogs – and all that hair creates more space that a collar must wrap around. 

Field Springers are generally leaner and don't have as much hair. Still, there needs to be enough space between the dog's neck in the collar to ensure a secure fit while still allowing freedom of movement, whether in the field or eating and drinking. 
Ideal Collar Size for Springer Spaniels

My current Springers are both males, weighing around 55 pounds. They wear their collars 20.5 inches long and 19.5 inches long, respectively. There's plenty of room for comfort, yet snug enough to prevent the collar from coming loose on a walk or other activity. 

Medium Is Probably Too Small
What may surprise you is that many medium-size collars aren't long to fit my dogs properly. In both cases, I generally need a large-size collar that I can dial back a bit. Always measure your dog's neck with a tape to ensure the best fit and match it to the manufacturer's size.
A general rule of thumb is you should be able to easily slide two fingers under the collar when it's on your dog. So the collar should be an extra inch or two longer than the length around your dog's neck. 
That might be a medium collar, but often you'll need a large. You can always trim the tag excess if necessary.

How Wide of a Collar for Springer Spaniels?

Another consideration is the width of the collar. If you get a color that is too thin, it's possible that over time the collar will wear and eventually split. This is especially true if your dog is active, swimming in his collar in his or her collar, or out on daily walks. 

If your dog happens to see a squirrel or a rabbit run by while on a walk and lunges toward that animal, you want to make sure that the collar is strong enough to hold your dog to the leash, time and again.

I've had Springer spaniels my entire life, and I like a collar that is 1-inch wide. It's the perfect combination of strength and fit. 

Best Collars for Springer Spaniels

You don't need to spend tons of money to get a great-fitting and long-lasting collar for your Springer. 

Out of the thousands of collar options out there, I've chosen my two favorite collars for Springer Spaniels to make it easy to get the perfect collar quickly.
Both happen to be made by the same company. They are well-made, functional and cost less than 20 bucks apiece.
What more can you ask for?
Embark Urban Dog Collar B07JVFD3CM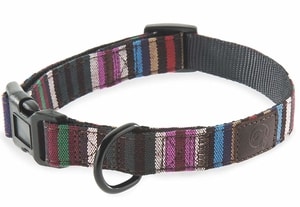 The Embark Urban Dog Collar is a great collar for the money. The large size adjusts from 17 to 24 inches, while the medium adjusts from 12 to 17 inches. It's lightweight, stylish and strong – a great overall collar.
See Current Price
Colors are limited, but if you like the look you can also get the matching Urban leash.
Embark Illuminate Reflective Dog Collar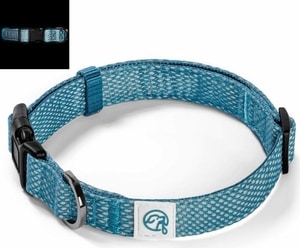 This collar from Embark is a great choice if you do a lot of night walking with your dog. It features a very reflective material across the entire collar, so your dog will be seen in headlights long before a car comes up on you both. The sizing is a bit different with this collar, as the medium adjusts from 15 to 22 inches – a great overall collar size for most Springers.
See Current Price
As with Embark's Urban Dog Collar, you have the option for a matching leash.