This post contains affiliate links, and I will be compensated if you make a purchase after clicking on my links. There is no cost to you, and I only recommend products that I would use.
Welcome to SportyDogGuide's Bissell Pet Hair Eraser review!
I live in a house with two English Springer Spaniels. I also live in a house that has hardwood floors, tile floors, and carpet. There is an upstairs, main floor and basement. This means there's a lot to clean every week. Vacuuming dog hair is a necessary part of being a dog owner. I've never liked vacuuming so much, I always looked at it as a necessary evil like grass cutting.
Part of the reason I never liked vacuuming was because most of the vacuum cleaners that I've had in the past have been cumbersome, heavy, loud and not very effective.
A few years ago my brother bought a Dyson vacuum, and after borrowing it several times I realized it was a much better machine than the vacuum cleaners I was accustomed to.
One of the things that I liked about the Dyson was that you could see it pick up the pet hair. It also didn't require a separate filter bag. It was effective and easy-to-use. And it didn't run so hot that your leg felt like it might catch fire in the process.
The downside of the Dyson was that after time the rollers would always accumulate so much hair that you would have to turn the unit upside down and start snipping pieces of hair with scissors. Not pleasant.
Bissell Pet Hair Eraser Lift-Off Model 2087
I've recently had the opportunity to try a new vacuum cleaner from Bissell designed specifically to pick up pet hair in the house. It's called The Pet Hair Eraser Lift-Off 2087. It has a number of really nice features that make it worth considering if you're in the market for a new vacuum cleaner and you deal with dog hair on a daily basis like I do.
Simple Setup
The Pet Hair Eraser is pretty much ready to go out of the box. You do have to attach the handle to the vacuum base and secure it with an included screw. And you'll also need to attach the hose to the back of the vacuum. After that, you're ready to vacuum.
2-in-1 System
One of the first things that stands out about the Pet Hair Eraser Lift-Off vacuum is that the vacuum base is just that – it's a base. All it does is hold the main vacuum system in place while you use it.
What's really cool is that you can detach the vacuum itself and carry it around in a portable fashion.
If you have stairs, this is a BIG deal. 
Besides the three types of floor surfaces that I must clean in the house, I also have to navigate stairs going up and down. Vacuuming these in the past was always a hassle. I had to physically carry the vacuum up and down the stairs while I use the attached one to bring up to get out pet hair. With the Pet Hair Eraser, you can leave the base behind and just carry the detachable part. In this sense the Pet Hair Eraser is a true 2-in-1 vacuum. It can be used traditionally to clean floors when it's attached to the vacuum base, or as a stand-alone carry vacuum.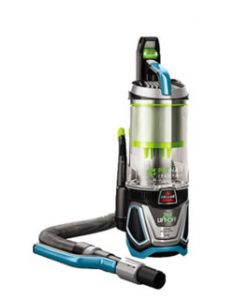 Room to Roam
If you've ever moved from room to room with a vacuum, chances are you've pulled the plug from the socket as you tried to squeeze out that last foot or so of cleaning. The Pet Hair Eraser has a 30-foot power cord that is super handy when you have several rooms to vacuum and don't want to constantly plug and unplug the unit.
The handle also features a cord clip that helps keep excess cord off the floor and prevents you from running it over with the vacuum. And we've all run over vacuum cords before!
Comfortable in the Hand
Another thing I like about the vacuum is the handle. It's probably something you don't give a lot of thought to when you're purchasing a vacuum, but having a comfortable handle is very important. It's best appreciated if you use one that is not particularly comfortable. The Pet Hair Eraser handle has a nice angled design that fits naturally in the hand, which makes it very easy to maneuver the unit.
The hose has a curved handle that's about 6 inches long. It also fits nice in the hand and makes it easier to manipulate when you're moving it around different areas of the house.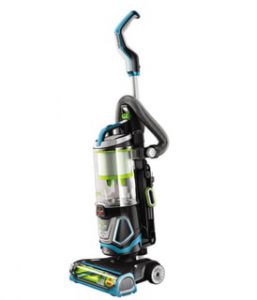 Good for Tight Spots
The vacuum also has a thin profile. The rollers are about 12 inches long. While some vacuum cleaners are wider and can clean more surface area with each swipe, the thinner profile makes it easier to get into tight spaces and in between things then wider units.
And Good Looking
And for what it's worth, I think the Pet Hair Eraser is a nice-looking vacuum cleaner. The combination of blue, green and black complement each other. Not that a vacuum has to be pretty, but why not?
Filters
The Pet Hair Eraser comes with two filters designed to fit below what Bissell calls a post-motor filter. The unit ships with a factory-installed, unscented filter that sits just below the canister. By releasing the tank with a quick push of a button you can access the filter cage. To change the filter, all you have to do is pull up on the filter cage and then unscrew the filter. A thick plastic screw keeps the filter in place. It's easy to take on and off.
Bissell also includes a second filter infused with Febreze fragrance, so if you have a particularly smelly area in the house this might be a good option for you. Replace these filters every 3 to 6 months depending on how frequently you vacuum. Both of these filters are pleated and can be tapped an inside of a trash can to dislodge any loose dirt that may accumulate in them. They are not designed to be washed.
As well, there is a pre-motor filter that sits on the top of the canister that can be removed by unlocking the tank cover. To do this requires releasing the dirt container from the vacuum, twisting the tank cover to unlock it, pulling up on the handle. This will give you access to the pre motor filter which can be pulled off by hand. This filter is designed to be washable and air dried. Like the post-motor filters, Bissell recommends replacing this filter every 3 to 6 months.
Tangle-Free Brush Roll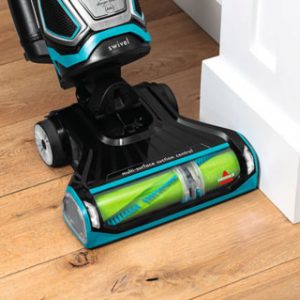 Another nice design feature is the unit's tangle free roller. This is basically a plastic cylinder with a groove that holds small bundles of bristles that grab dirt and hair off the floor. That's good because you're not stuck with going into the vacuum with scissors or some other clips and then pulling out yard after yard of hair that's wrapped around the roller. I've done that more than one occasion with other vacuum cleaners and it is not my favorite job.
You can adjust the Pet Hair Eraser on the side with a dial that opens and closes to accommodate high carpet, medium carpet and on down to bare floor. Next to the power button is a button that engages or disengages the roller. When vacuuming carpets, you want the roller engaged and spinning to pick up dirt and hair. When vacuuming hardwood floors you want this off, so just flip the button back and adjust the setting to bare floor. Simple.
Swivel Left or Right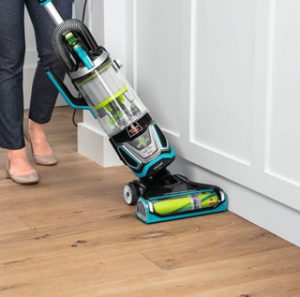 The Pet Hair Eraser features a swiveling base, so when you're vacuuming around furniture, table legs or anything that's typically in the way you can maneuver around them with ease. It's easy to do with one hand and it doesn't require any extra effort. The vacuum just follows the way you're trying to turn left or right. Swivel is an awesome feature.
No Ear Plugs Needed
The Bissell Pet Hair Eraser is also quiet compared to other vacuums I've used in the past. It's not whisper quiet, but it doesn't bother my dogs like other vacuum cleaners have in the past. In fact, we called our old vacuum cleaner "The Barking Machine," because without fail one or two of my dogs would start barking at it when it came on because they were so annoyed by it. It's nice to have a quieter option on both sides!
Deep Cleaning
The raison d'être of any vacuum cleaner is TO CLEAN. And the Pet Hair Eraser's mission is accomplished. This machine is very effective at picking up dog hair and other debris whether on carpet, tile or wood.  I'm always amazed how much dog hair and other dirt is in the canister when I vacuum even just one room in the house. We do not live like pigs, but it only takes a day or two for two dogs to shed enough hair to require vacuuming.
Easy To Dump Out Hair and Dirt
As well as being very effective at picking up dog hair, the Bissell is very easy to empty. There's a press-release button near the handle that releases the dirt container from the vacuum. At the bottom of the canister is a button that you press, which then forces the hair out of the container. Just hold the canister over a trash can and let the contents fall out.
A Trio of Useful Attachments
The Pet Hair Eraser comes with three attachments.
There is a 2-in-1 pet brush with a soft bristle head for cleaning items like woodwork, drapes, lamp shades, counters and other delicate surfaces. The head is a nice low profile which makes it easy to get into places like stereo cabinets and other places that are difficult to clean sometimes.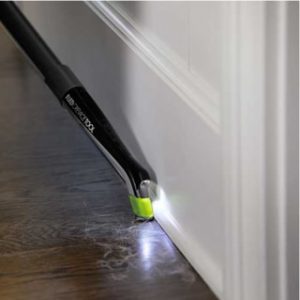 There is a lighted attachment which is a longer skinny wand with an LED bulb at the end. This attachment has a tab that depresses when you put it on the vacuum that automatically turns on the LED . This crevice tool is nice for corners of the house where lighting is poor, such as under furniture. I found it interesting to see how much hair had accumulated in one darker corner of the house when I used this tool.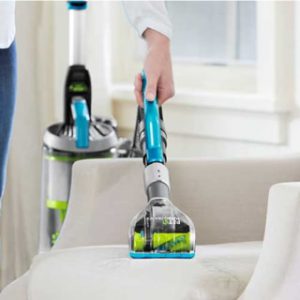 The last attachment is the Pet TurboEraser, which functions like the vacuum in miniature. It sports the same roller-and-bristle system that the vacuum cleaner does for vacuuming carpets and hardwood floors. When you attach the Pet TurboEraser to the vacuum one it automatically engages a belt that spins the system. The TurboEraser is great for getting dog hair off furniture, dog beds, bed sheets and covers, etc.
Both the 2-in-1 Pet Brush and the Lighted Crevice tool attach to the vacuum when not in use. There is no mount for the TurboEraser, so you'll have to keep it separate.
Built-In Safeguard
The vacuum also has a built-in thermal protector to keep it from overheating. If for some reason the unit gets too hot, the thermal protector will be activated which will then shut off the main vacuum motor. This is handy in case for some reason the machine clogs or you run into something unexpected. The idea is to unplug the device, look for any source of overheating, remove it, and then let the machine cool for a half hour.
Caveats
Overall, I really like the Bissell Pet Hair Eraser. But it's not perfect. It can be a little heavy to carry when using it as a detachable vacuum. As such, you'll be toting around 10 pounds which isn't comfortable to lug around if you have a large space to clean. If you don't have a lot of arm strength or you tire easily, it can be a little heavy to carry up and down stairs. However, it is much easier to do that then to carry an entire vacuum cleaner along for the same purpose.
My other quibble is with the vacuum wand. It's finicky and sometime goes out of its locked position while you're using it. The mechanism is simple enough. You pull the wand out and then turn it either right or left to lock or unlock it. Simply put, the locking mechanism isn't the most reliable.
Conclusion
The Bissell Pet Hair Eraser has a lot of good things going for it. It's very effective at picking up dog hair and other dirt and debris. It's very versatile. Better yet, it's easy to maneuver around floors, even those with a lot of obstacles. And it's backed by a 5-year limited warranty.
In summary, here are 11 things that Bissell Pet Hair Eraser Lift-Off 2087 gets right:
Easy to assemble – one screwdriver is all you need
Good ergonomics make it comfortable to use
Swiveling action makes turning and vacuuming corners a breeze
Detachable so you can vacuum anywhere in the house
Generous 30-foot power cord fits nicely on the side of the unit
Excellent vacuuming and cleaning power
Bagless design means no bags to buy and less mess
Easy-to-empty dirt canister
Tangle-free brush roller design keeps hair from gumming up the system
Cord clip prevents power cord damage
A set of attachments that are actually useful
Although I will never love vacuuming, I can say with certainty that the Bissell Pet Hair Eraser makes the job much more enjoyable for me and for my wife. In the past we would look at each other and say, "Whose turn is it to vacuum?" Now there's no fighting over who does and who doesn't vacuum. We just grab it, start vacuuming, and look at the results as a container filled with pet hair. In the end we always say, "Wow, look at all the hair in that container!"
The Bissell Pet Hair Eraser is not the cheapest vacuum, nor is it the most expensive. But its feature set, effectiveness and thoughtful design features make it a winner in our household. Make that our cleaner household! See the current price right now.