Welcome to SportyDogGuide's Hurtta Trainer's Vest review!
Dog training vests are popular for those involved in the sport of Schutzhund and/or K-9 training. A well-designed vest makes it easy to keep everything a trainer needs close at hand. Whether it's tug toys or treats, you'll want a vest with plenty of pockets and one that's built to last. And our favorite vest has pockets aplenty!
But even if you don't work with a Belgian Malinois or German Shepherd, a good training vest is practical for all types of obedience training and trials for all breeds. And it's also super handy for carrying water bottles, treats, frisbees and other toys that you might bring along on a walk.
If you're considering a dog handler training vest, here's our top pick.
Best Dog Handler Training Vest
Hurtta is a company based in Kuopio, Finland, about 210 miles northeast of Helsinki. It specializes in dog training products and other accessories. Its lineup of training vests includes the excellent Hurtta Trainer's Vest.
This vest features a breathable and water-resistant laminated outer shell and a lightweight mesh lining. It's designed to fit snug and narrow, so your vest won't be flopping about at the waist on windy days. The high-fitting collar and waist can both be cinched tight for a secure fit, while the collar also includes a waterproof hood that can rolled out or folded away as desired. You can further tighten the vest with inside drawstrings that close or loosen around the waist.
In The Pocket
You'll find four zipper pockets on the front of the vest – two on the chest and two side pockets, which have additional zipper pockets on top. The left side pocket contains a detachable, washable bag that's perfect for storing treats. And all the pockets are lined so you won't have moisture transferring from toys to you.
There's a large pocket that runs across the entire lower back where you can stuff tugs, bite wedges and other larger training toys. You also get lots of space on the two side pockets which have additional zipper pockets on the front where you can secure car keys, sunglasses or a cell phone.
If you like to listen to music or other audio, there's an opening on the upper right front pocket where you can run a cord for earbuds. The opening is also a handy place to store poop bags.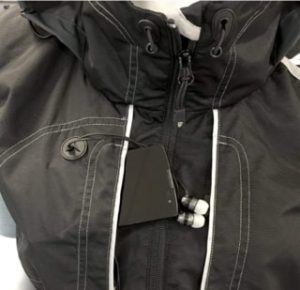 The left side of the vest has a Carabiner that can be used to attach any number of things, and there are also three rings (two on the left side; one on the back) for additional attachment options.
Simply put, this vest has a pocket or connector for anything you need during a training session. Here's a summary of what this vest gets right.
See Current Price
Outstanding Features
7 pockets provide ample room for anything you need to carry
Water resistant, breathable shell
Detachable, washable treat bag
Roll-out waterproof hood for cold and wet weather
Reflectors on vest provide better visibility in poor light
Four points of attachment for accessories
Excellent build quality
Trim, flattering fit
Drawbacks
The Hurtta Trainer's Vest has a lot going for it, but it's not a good choice if the majority of your training is done in a very warm climate. That's because the vest can be uncomfortably warm to wear when the temps climb. One minor design gripe is that the detachable treat pocket, being on the left side, isn't as user friendly for right-handers as for left-handers. It would be nice if you could switch from right to left as desired. Another issue is that the hood isn't removable, so you'll always have the bulk of it around your neck when it's not in use. Lastly, it's available in one color only – Granite.
Conclusion – Best Dog Handler Training Vest
Although not perfect, the Hurtta Trainer's Vest is pretty close. Its combination of style and substance makes it a vest you'll be wearing for everyday training and trials. With plenty of pockets, a thoughtful design, solid craftsmanship and a great fit, the Hurtta Trainer's Vest is the best dog handler training vest on the market. It comes in 7 sizes – from XXS to XXL – so you're sure to find the best fit for you. Find your right size here.