This post contains affiliate links, and I will be compensated if you make a purchase after clicking on my links. There is no cost to you, and I only recommend products that I would use.
Are you looking to make your campsite dog friendly?
Camping with your dog can be a great experience for dog and owner alike. Having your best friend along as a companion while camping can make for a memorable outing. Is there a cozier feeling than curling up with your dog in a tent, listening to the sounds of the night as you both drift off to sleep?
But "camping" and "dog friendly" aren't always synonymous terms.
There are challenges.
One of the biggest challenges of canine camping is keeping your dog occupied when you're setting up camp, cooking or starting a fire. If you've ever tried to pitch a tent while holding your dog's leash, you probably wondered if it was too late to drive back home!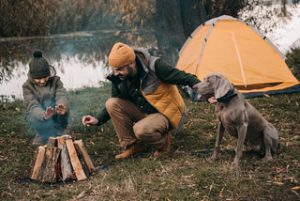 Most campgrounds have restrictions requiring your dog be leashed at all times.  But if you're in an area where you can leave your dog off leash, it might wander over to a neighboring site where food and any other number of things can attract your dog. That's not good. There's got to be a better way.
So, when I first saw Ruffwear's Knot-A-Hitch Dog-Hitching System, I thought, "Why didn't I think of this?"
The System behind Ruffwear's Knot-a-Hitch Campsite Dog-Hitching System
It's a simple concept: the hitching system allows your dog to roam at the campsite while remaining on leash.
This dog tether system starts with a 36-foot length of kernmantle rope, which serves as the line along which your dog moves about. Kernmantle rope is a strong yet flexible type of rope composed of an interior core (kern) and a sturdier outer braided cover (the mantle). Kernmantle rope is commonly used in demanding applications such as rappelling, so you can be confident of its strength.
A swiveling carabiner attaches to the handle of your dog's leash and provides 360-degree range of motion beneath as well horizontally along the complete length of rope.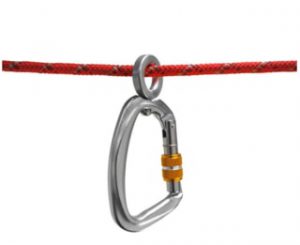 And unlike ground stakes and similar tie-downs, the Ruffwear system won't tangle around your dog's feet or bunch up into a mess. And because it's attached to trees or a post, it can't be pulled out of the ground should your dog pull. It's a safer and better system for you and your dog.
The rope is attached at one end to a strap that is also attached to the stuff sack. Simply loop the strap around a tree, fasten tight and secure it to one end of the rope with the steel clip. Then do the same with the loose end of rope. A quick-pull tensioning system brings the rope taut and ready for use. Any extra rope can be stowed in the stuff sack. The video below shows how easy it is.
How to Set Up the Ruffwear Knot-a-Hitch Campsite Dog-Hitching System
The Dog-Hitching System sets up in minutes. You can attach the rope ends to two trees, as shown in this video, or to a single post.
A nice touch is how Ruffwear has sewn set-up diagrams right into the stow sack's inside flap.
You don't have to worry about protecting flimsy paper instructions or trying to set it up from memory. It's all right there, always right there inside the front flap. That is a great feature. And because the stuff sack is part of the system, you don't have to worry about it blowing away or losing it in the shuffle of making and breaking camp. That is another winning feature.
When you're done, the whole system fits neatly into its stow bag, for a tidy and portable package. The compact stuff bag is a mere 7 inches long by 6 inches wide and 2 inches thick. It's easy to toss into a larger camping gear bag or just to keep in the car for whenever you need it.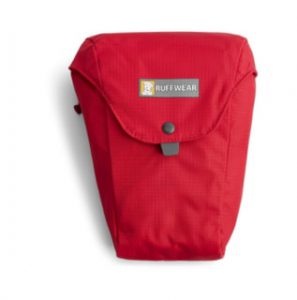 If the Hitching System gets dirty, you can hand-wash it and let it air dry. Simple.
Bottom Line:
Ruffwear's Knot-A-Hitch Dog-Hitching System is a car-camper's best friend when the family dog is along. It sets your hands free and still gives your dog plenty of room to roam safely. It's thoughtfully designed, easy to set up, lightweight and super practical. I consider it an essential piece of canine camping gear. And it will make your camping grounds dog friendly.
See Current Price
Specifications
Length: 36 feet long
Weight: 12 ounces
Stow Bag: 6 inches x 7 inches x 2 inches