Outward Hound Fun Feeder Large Slo Bowl
Design

Build Quality

Easy to Clean

Value
This post contains affiliate links, and I will be compensated if you make a purchase after clicking on my links. There is no cost to you, and I only recommend products that I would use.
My overall rating of the Outward Hound Fun Feeder Large Slo Bowl
Some dogs do and some dogs don't – right? I'm talking about dogs that eat fast. Dogs that go after their food like they've never eaten before. Eating so fast that mealtime becomes a chaotic race to the finish with no prize.
Meet Winston – my youthful and always hungry English Springer Spaniel.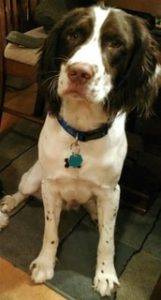 Winston likes to eat, and if allowed he will eat really fast. I'm talking about gulping down a bowl of food in under 15 seconds. My wife and I were concerned that his lightning-fast ways with food would lead to bloating or even vomiting. We needed something to slow him down. We tried placing chew bones and balls into his old dish to create "obstacles" as he ate, but it barely mattered. He would rush into his food and push the objects out of the dish along with sending a spray of kibbles all over the place. There had to be a better way.
That's where the Fun Feeder Slo Bowl by Outward Hound comes in to save the day. If your dog is a fast eater, learn how you can slow him or her down right away.
The Design
The Slo Bowl comes in two sizes (mini and large) and three colors (orange, purple and teal). The mini holds 2 cups of dry or wet food, while the large holds 4 cups. Each color has its own maze-like design with a series of ridges, valleys and turns that "guard" the food to promote slower eating. This review and outcome are based on the large purple bowl.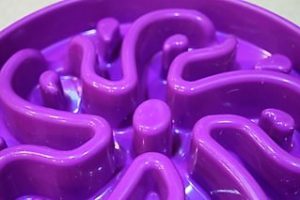 The bowl is made with sturdy, food-safe ABS plastic and has four non-skid feet to keep it from moving and shifting as your dog eats.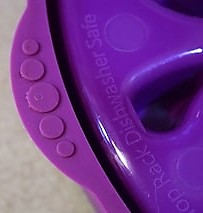 Putting the Slo Bowl to the Test
The Slo Bowl is a breeze to use – just add food. I like to give the bowl a shake or two to distribute the food evenly and then it's grub time. But what a difference a bowl makes! This video shows how the Slo Bowl dramatically slowed down the time it takes Winston to eat.
With a traditional bowl, he would finish his food in about 15 seconds. It took Winston more than 7 minutes to eat from the Slo Bowl! Since he eats twice a day, his feeding time went from 30 seconds to over 14 minutes. And he's not tempted to go after my other dog's food because he's kept busy until every last kibble is nibbled.
Easy to Clean
The Slo Bowl is easy to clean. I just wipe it with a paper towel each day, and then give it a good wash with soap and water each week and let it air dry. If you own a dishwasher, you can load it on the top rack and let the machine do the work.
Competition of the Slo Bowl
There are a few other slow feeders of similar design that have many good reviews and are priced competitively with the Slo Bowl. These include the Wag Haus Slow Feeder Bowl, the Siensync Fun Feeder and JASGOOD's Dog Feeder Slow Eating Pet Bowl.
The biggest drawback of them all is capacity. The "large" models hold only 1 to 2 cups of food. If you have a smaller dog that's fine, but medium-sized breeds and larger will be better served with the large Slo Bowl and its 4-cup capacity.  Plus, the large size makes it easier for larger dogs to navigate the nooks and crannies with their larger mouths. 
Ready to Buy?
My wife and I both really like this bowl.  It's simple to use, inexpensive and dramatically slowed down the time it takes for our dog Winston to eat his food. For us – and him – the Slo Bowl is just about perfect. I bet it will help your dog, too.
Here is a link to the Amazon Slo Bowl page:  Outward Hound Slo Bowl Fun Feeder Don't wait too long as prices might go up!
Slo Bowl Technical Specifications (Large Size)
12.5 x 11 x 2.3 inches
Holds 4 cups dry or wet food
Non-slip base
Weighs 8.2 ounces
Top-rack dishwasher safe
Made with food-safe ABS plastic
Free from: BPA, PVC, Lead and Phthalate