This post contains affiliate links, and I will be compensated if you make a purchase after clicking on my links. There is no cost to you, and I only recommend products that I would use.
Many dogs love going for car rides with their owners.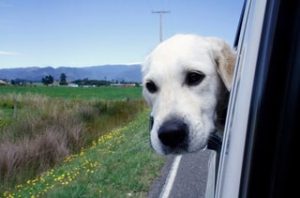 But sometimes it's a challenge for dogs to jump into – and out of – a vehicle such as an SUV or Crossover because of the vehicle's height.
It's tough on their joints and if your dog is older or has had any type of surgery, the up-and-down pounding of jumping in and out of a vehicle can take a heavy toll.
You might be able to pick up your dog and set him or her into the cargo area, but if you have a bad back or a dog weighing more than 20 pounds, this can be a challenge for you.
There are many pet ramps designed to assist dogs as they enter and exit the cargo area of a car. But these types of ramps are generally bulky, heavy and impractical to bring along when traveling.
It's one thing to use a ramp in the driveway on a nice sunny day, it's another when you're coming back from a hike and it's starting to rain. Do you want to be fiddling with pulling a ramp out of the car, setting it up and waiting for your dog to ascend it?
And then there's the issue of dirt and grime. If you put a dirty, wet ramp back into your car somebody will later have to clean it and the car.
What a mess!
Heininger 3062 PortablePET Twistep
That's what makes the Heininger 3062 PortablePET Twistep such a valuable tool for dog owners who drive SUVs, Crossovers and even pickup trucks.
Combine the Twistep and a trailer hitch and you'll have one of the smartest and sturdiest dog steps available.
Overview of the Heininger 3062 PortablePET Twistep
The Heininger 3062 PortablePET Twistep fits both 1.25-inch and 2-inch hitches. It measures 22 wide and 19 inches deep and comes assembled, so you can install it quickly.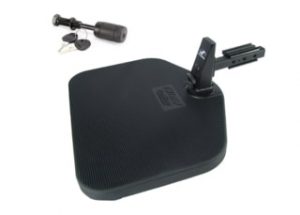 With a steel frame and glass-filled nylon, the Twistep is built to take abuse and provide years of reliable service. The anti-slip coated rubber surface ensures solid footing for paws and shoes alike. And it's easy to hose off or wipe away dirt with a rag when the platform gets dirty.
You can adjust the height of the Twistep 6 inches, by raising or lowering the assembly to match any of the 6 sets of holes on the receiver bar tower. This can be quickly done by removing 4 screws and washers and then tightening them at the desired height.
By lifting the T-Handle at the base of the assembly, you can swivel the platform underneath your vehicle. The platform rotates 360 degree. Each time you rotate the platform 180 degrees, it locks back into place.

Simple Setup

Connecting the Twistep to a trailer hitch is super easy. With the platform turned either to go underneath your vehicle or facing outward, just slide the shank of the platform into the hitch. Line up the pin holes to your preferred placement and thread the receiver bolt through the hole. Make sure the platform is at the right height to swivel under your vehicle. Then tighten the bolt securely with a socket wrench.
This video demonstrates how to install the hitch as well as its full functionality.
Outstanding Features
One-hand operation – you can keep your hand on a leash as you position the platform for your dog
Very sturdy – has a weight capacity of 400 pounds on a Class III hitch
Fully assembled – ready to install out of the box
Easy installation – can be done in a few minutes and by anyone
Height adjustable – tweak it for the perfect fit
Out of sight when desired – tucks out of the way when not needed
Permanent solution – always on the hitch so your dog always has
Versatile – great not just for dogs but for people needing an easy way access the back of a car or pickup truck. Makes a great seat, too
Caveats
The main drawback of the Twistep is its cost. It typically retails for $250 to $270.
And some vehicles (see below) will require Heininger's 3053 Extension Bracket.
2006-2018 Chevy Tahoe
2006-2018 GMC Yukon
2006-2018 Cadillac Escalade
2006-2018 Nissan Pathfinder
2014-2018 Jeep Cherokee
This bracket provides additional clearance so the Twistep can swivel underneath the bumpers and/or spare tires.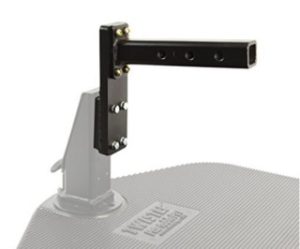 The extension cost about $55. Should you need it, your final tally would be over $300.
Conclusion
The Twistep is sturdy, simple to use and reliable – but pricey.
Once owners get past the sticker shock, they praise this step for its high quality, speedy installation, convenience and how it's helped their dogs – many with hip and leg issues – get in and out of the vehicles with ease.
If you're looking for a sturdy, easy-to-use platform that gives your dog – and you – quick, reliable 4-season access to the cargo area or bed of your vehicle, the Heininger 3062 PortablePET Twistep is a great investment.
Consider that if you use it for only 5 years, your cost average would be $50 a year or less than $1 per week. With that perspective and your dog's well being, the Twistep is really a bargain.
See Current Price