This post contains affiliate links, and I will be compensated if you make a purchase after clicking on my links. There is no cost to you, and I only recommend products that I would use.
Welcome to SportyDogGuide's Primal Pet Gear Dog Leash review!
Learn why this is the best dog leash for medium to large dogs.
Along with a good collar or harness, a dog leash is the most important tool in a dog walker's arsenal. It's something every dog owner needs.
Dog leashes are not complicated, but it's surprising how many poorly designed leashes are on the market.
You have choices – probably too many choices – when shopping for a leash.
That's why so many dog owners just grab the first leash we see based on color or price. And we live with the choice, for better or for worse.
This I know:
All dog leashes are not created equal.
You deserve better.
Best Dog Leash for Walking Medium to Large Dogs
The Primal Pet Gear Dog Leash is better. Much better than other dog leashes.
Here's why:
Primal Pet Gear Dog Leash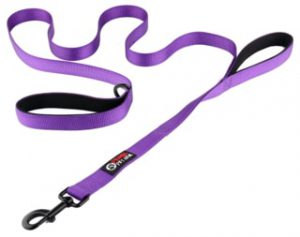 At first glance, the Primal product looks like two leashes in one.
It is. That's part of its genius.
When laid out flat, the leash is 6-feet long. But see that second handle? That one is placed just 12 inches away from the collar clip.
That is awesome, because with two handles, you have much better control.
Use the primary handle at the end of the leash on normal walks to give your dog the full lead line.
You can also quickly get close control of your dog with the second handle as needed. This is very handy if you walk along busy streets or in areas with lots of other dog activity. This two-handle design is something every leash should have, but few do.
Dog leashes should also have padded handles.
If you've ever been walking and had your dog lunge forward pulling the leash through your hands, you've probably experienced some form of nylon or rope burn.
Not pleasant.
The Primal Pet Gear leash has not one, but two, padded handles!
That's another part of its genius.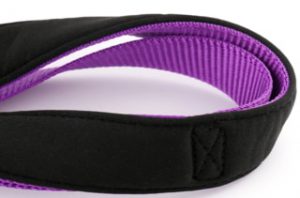 Whether you're walking with a normal loose leash or need to pull your dog close, both of your hands will be padded, protected and comfortable. And that padding sure feels better against the skin on cooler days than bare nylon.
Two padded handles. Huzzah!
Another nice accessory is the O-Ring located at the bottom of the top handle. This is a great place to attach a dog poop bag dispenser.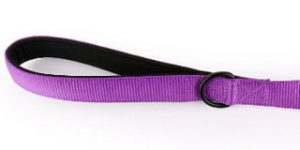 Beyond these excellent features, the leash is constructed from sturdy 2-millimeter nylon material sewn together with reflective stitching to make it easier to be seen in the dark. It also sports a solid 2-inch clip that attaches quickly to any collar or harness.
The Primal Pet Gear Dog Leash comes in three colors: pink, purple and red.
Conclusion
There's little not to like about the Primal Pet Gear Dog Leash. It is comfortable to use, helps you keep your dog under control and is immensely practical. It's probably more leash than you'd need for a small breed dog like a dachshund and not quite as flexible as you might want should you have a bull mastiff, but we believe it is the best all-around dog walking leash available for medium to large dogs. Reviews on Amazon, too, are overwhelmingly positive, with some 92% of customers giving this leash the highest 5-Star rating. And, the Primal Pet Gear Dog Leash is generally available for under $15, which makes it an even better bargain. See the current price on Amazon now.