This post contains affiliate links, and I will be compensated if you make a purchase after clicking on my links. There is no cost to you, and I only recommend products that I would use.
Siberian huskies love being active in the outdoors. These wolf-like working dogs are known for their stamina and ability to thrive in cold conditions. While most of us aren't going to hook up a group of huskies and run a sled-dog team, husky owners who want to take their dogs with them on hikes or camping trips will find a dog backpack very useful and convenient.
The problem is there are so many dog backpacks to choose from.
So, what is the best dog backpack for a husky?
Before looking at the packs, here a few things to consider.
Size Matters
Because huskies have long, thick hair, they often appear to be larger than they really are. Huskies are actually medium-sized dogs. Males average 45 to 60 pounds and females 35 to 50 pounds, according to the American Kennel Club.
For that reason, most adult huskies will be most comfortable wearing a Medium Size backpack.
Don't Overpack
Most manufacturers recommend your dog carry no more than 25% of his or her weight with the pack.
If your husky weighs 50 pounds, don't put more than 12.5 pounds on his or her frame. It's always better to stay on the low side than push it to the limit.
And be sure when you're filling the pack to distribute the weight across the pockets as evenly as possible. This will make it much easier for your dog to stay balanced and comfortable while wearing the pack.
Don't Overdo It
Make sure to take time to help condition your dog to exercise and carrying extra weight. Build up his or her conditioning with consistent daily walks, gradually increasing the distance and time. And it's also worth a quick call – even an appointment – with your veterinarian to assess your dog's physical ability to hike and carry a pack.
With that said, let's look at 4 backpacks that are great for hiking with huskies.
Best Dog Backpack for a Husky
Pettom Dog Saddle Backpack 2-in-1 Saddlebag & Vest Harness 
See Current Price
The Pettom pack is a great option for day hikes and overnight trips. Its modular 2-in-1 design make it useful as a stand-alone vest harness or as a full backpack. And it's very easy to unhook the saddle bags to give your dog a break from the extra weight. It has plenty of room for a leash, food, water, treats and more. A couple caveats about this pack. It runs a bit large, so a medium might be too big depending on your husky's size. And the zippers could be better. It would be nice to have an attached tab or tassel to make zipping and unzipping easier.
Color choices: Green or Red
Dimensions: (Medium) 16 inches x 5 inches x 10 inches
Capacity: 14 liters (854 cubic inches)
Weight: 1.8 pounds
Outstanding Features
The pack sports reflective stripes and trim that make it easier to keep tabs on your dog during low-light conditions
The roomy side pockets have adjustable compression straps so you can tweak the pack to your needs
A top safety handle is present should you need to quickly restrain, lift or help your dog in some other fashion
The safety handle can also be used in conjunction with a car seat belt to restrain your dog while driving.
There is a D-ring on the top of the pack to which you can attach a leash – in this way the backpack also functions as a walking harness
Removable saddlebags are great for stream crossing
The pack and pockets are made with waterproof material, so whatever you put in the pack will stay dry
Weight-forward design offers your dog freedom to move naturally
Breathable mesh lining helps keep your dog cool
Good price point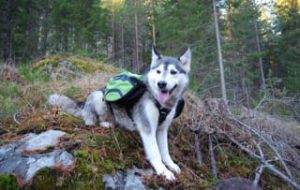 For its thoughtful design, feature set and usability, the Pettom Backpack is a strong contender for best pack.
Get the Pettom pack now with free shipping.
Ruffwear Approach Full-Day Hiking Pack for Dogs
See Current Price
As the name implies, Ruffwear's Approach Full-Day Hiking Pack is designed for day hikes although it is roomy enough for overnight adventures. It offers a lower profile than Ruffwear's Palisades Pack and is roughly half the price. There's little not to like about this pack. One big difference between this pack and the Palisades is that the harness is not detachable from the saddle bags, so if you hike in an area with lots of streams it can be a hassle to take the Approach on and off your dog to keep the pack dry. A few people have complained that the straps are difficult to adjust and that the pack can be a little difficult to balance. Still, this is an outstanding backpack that your husky will likely love.
Color choices: Campfire Orange, Meadow Green, Orange Poppy, Pacific Blue
Dimensions: (Medium) 16.5 inches x 15.5 inches x 8 inches
Capacity: 13 liters (793 cubic inches)
Weight: 1 pound
Outstanding Features
The pack sports reflective stripes and trim that make it easier to keep tabs on your dog during low-light conditions
Weight-forward design allows your dog to walk naturally
Tabs on zippers make it easy to open and close pockets
Integrated harness provides 5 points of adjustment for a perfect fit
Straps are padded to prevent chafing and rubbing your dog's skin
Padded handle to help your dog over obstacles or to restrain
Two leash attachment points
External gear loops make it a cinch to attach extra items
For half the cost of Ruffwear's flagship Palisades dog pack, you get a durable and well-designed backpack with the Approach. This is a lot of pack for the money. Get yours now.
Mountainsmith K-9 Dog Pack
See Current Price
Mountainsmith's K-9 Dog Pack is another excellent pack choice for your husky. The pack was designed with the assistance of a Colorado sled dog veterinarian to ensure an ergonomic fit. It features two saddlebag pockets (one one each side) with loads of room for all your dog's essentials, padding on all points of contact with your dog and it's easy to attach. Some people have had issues with the straps sliding loose, but overall this is a superb pack for the money.
Color choices: Azure Blue, Heritage Black, Heritage Red
Dimensions: (Medium) 13 inches x 9 inches x 11 inches
Capacity: 24 liters (1,464 cubic inches)
Weight: 1 pound
Outstanding Features
Very spacious 24-liter capacity
Durable rip-stop 210 Denier nylon construction
High quality YKK zippers with tassels and tabs that make it very easy to open and close the pockets
Reflective strips on front, rear and side panel for better safety and visibility during low-light conditions
Extra layer of padding under the straps and buckles provides comfortable fit and support
Metal D-ring attachment for a leash or lead
Air mesh panels on the undersides for improved ventilation next to your dog's body
Easy-to-grab rounded safety handle
The back harness is independent of the pockets and can be adjusted on its own
The adjustment points on the top feature tabs that pop open so you can quickly loosen or tighten the straps
The K-9 also comes in at the lowest price of all the packs reviewed here. It's a true bargain. Buy it online today.
Ruffwear Palisades Pack – Medium
See Current Price
For extended trips into the backcountry, Ruffwear's Palisades Pack is our top choice. The Palisades is a dual-system pack, featuring a harness that can be used alone or with the saddle bags by attaching them together with clips. That's a really nice feature not found on the Ruffwear Approach. It's super handy should you want to quickly remove the pack to cross water or through dense brush where it might otherwise get hung up.
The biggest drawback of the Palisades is that for the price it is not a waterproof pack, so anything inside is subject to moisture. The work-around is to line the pouches and pockets with plastic bags and then secure them across the contents to keep water from invading.
Color choices: Red Currant
Dimensions: 14 inches x 13 inches x 10 inches
Capacity: 17.5 liters (1,068 cubic inches)
Weight: 1.85 pounds
Outstanding Features
Roomy 17.5-liter capacity
Deep, expandable pockets with multiple zippered openings
Cross-load compression system offers great fit and support
Removable saddlebags make dry water crossing a breeze
The pack includes a pair of collapsible, 1-liter BPA-free water bottles to keep your dog hydrated
Anodized aluminum D-ring leash attachment point
Padded safety handle to lift or help your dog when needed
Tabbed zippers provide easy opening and closing
The Palisades is long on features that make particularly suited for weekend trips and more. For serious backpacking with your husky, there's no better pack on the market. See what others have to say here about the Palisades Pack.