This post contains affiliate links, and I will be compensated if you make a purchase after clicking on my links. There is no cost to you, and I only recommend products that I would use.
Welcome to SportyDogGuide's Dog Doormat For Muddy Paws Review!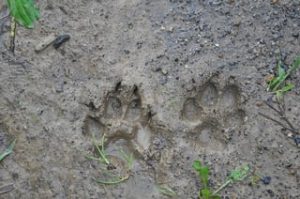 Wet. Muddy. Paws.
If you own a dog, you know the game.
Your dog goes outside, and it's raining. Or the yard is muddy. Maybe it's snowing. Or sleeting. Did you just cut the grass? Does your dog like to dig?
Your dog comes back inside, and you have 4 wet and/or dirty paws to contend with.
And it goes on and on.
You need something to help soak up the mess before it hits your floor.
You need a doormat. A dog doormat for muddy paws.
We've found one that is a top performer at a great price.
The BirdRock Home Dog Chenille Doormat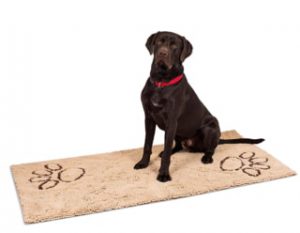 The job of any dog doormat is to keep dirt, mud and water on the mat and off your floors. So what makes the BirdRock Home Dog Chenille Doormat the one to buy?
Outstanding Features
It has a soft microfiber top that does a great job catching dirt and water before your dog tracks it all over the house.
The bottom features a non-skid backing that keeps the doormat in place, so your dog will have traction as he or she  walks over it.
It's machine-washable, so you can keep it looking great after it's done the hard work.
You have a choice of three colors – gray, tan or brown. One of these is likely to compliment your interior colors.
It's an excellent value. Even the largest-sized doormat in the BirdRock lineup can be purchased for under $50
Versatile
The BirdRock Home Dog Doormat is also very versatile. It's available in two sizes: 35 inches x 25 inches and a runner-sized 60 inches x 30 inches.
Therefore, if you have multiple traffic areas in the house, you can use the smaller mat for narrow or shorter entries and the larger one for longer entryways.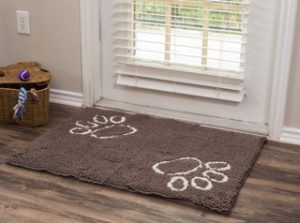 Besides that, you can also choose a mat based on the breed of your dog. The smaller models would be great for small- to medium-size breeds, while the 60- x 30-inch mat is a great choice for larger breeds such as German Shepherds or Great Danes.
Doormat and More
It can even be used as a backup dog bed or blanket or to soak up the mess around water bowls from notoriously sloppy drinkers and droolers including Basset Hounds, Bloodhounds, Boxers, Clumber Spaniels, Newfoundlands, Mastiffs and Saint Bernards.
This mat would also be a good option for those with RVs and travel campers.
Customer Ratings & Conclusion
The BirdRock Home Dog Doormat has astonishingly great feedback on Amazon. Some 90% of customers give this doormat a 5-Star rating. Those who've bought this mat love it because it is super soft yet durable, absorbs dirt and mud, stays in place and is an overall excellent value for the money.
For price, performance and customer satisfaction, the BirdRock Home Dog Doormat is the best dog doormat for muddy paws.
See the color and size options here.