This post contains affiliate links, and I will be compensated if you make a purchase after clicking on my links. There is no cost to you, and I only recommend products that I would use.
Welcome to SportyDogGuide's 5 Best Collars for Large Breed Dogs review!
A collar is arguably the most important piece of gear for your large breed dog. The collar needs to provide a secure and comfortable fit.
Large dogs can make mincemeat of cheaply made collars.
You don't want to be walking or training your big pooch and suddenly see him or her break free as the collar stretches too far or even snaps (you know, see that squirrel or rabbit over there!).
If you own a large or extra large dog, you'll find the perfect collar for your best friend below.
These collars are great for Mastiffs, Rottweilers, Cane Corsos, Great Danes, Newfoundlands, Saint Bernards, Irish Wolfhounds, German Shepherds and other big dogs.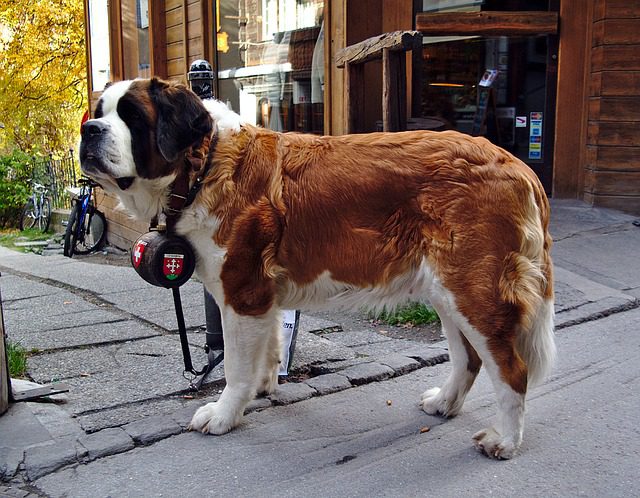 5 Best Collars for Large Breed Dogs
Bestia Maximus Leather Dog Collar: The Bestia Maximus is a true beast of a collar and designed for large breeds only. The Maximus comes in four sizes to fit dogs with medium-sized necks (16.7 to 19.7 inches in diameter), large-sized necks (19.7 to 23.6 inches), XL (22.6 to 26.6 inches) and XXL (25.6 to 29.6 inches). Out of curiosity, I measured my own neck – a puny 15 inches that would be too small for the smallest Maximus!These collars are not just big, but rugged. That's because Bestia builds the Maximus using 4 millimeters of 100% buffalo leather as a base. Then, it lines the collar with lamb leather and 6 millimeters of orthopedic foam for comfort. The Maximus has many 5-star reviews from owners of breeds including Cane Corsos, Great Danes, English Mastiffs and Rottweilers.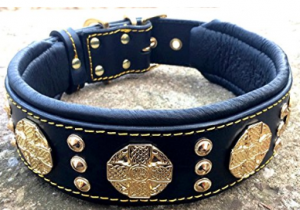 2. RedLine K9 Heavy Duty Leather Dog Collar with Felt and Handle: The K9 is another beefy dog collar built to withstand the rigors of Police K9, Schutzhund and agitation training. The 2-inch wide Latigo leather construction makes it pliable yet very rigid, while the felt lining is super comfortable. It also features a steel ring and buckle to secure a leash and a handle for additional grip. The K9 comes in three sizes to fit dogs with necks of 16 to 22 inches, 20 to 24 inches and 24 to 28 inches. Customers praise the collar for its build quality, durability and comfort.
3. Blackjacks Leather Pitbull and Large Breeds Leather Dog Collar: Looking for a super strong collar that can be personalized for your dog? The large breeds leather collar from Blackjacks Leather is a great choice. Blackjacks tests each collar at 2,000 pounds bursting strength, hence it should hold up to the toughest canine. Furthermore, the company equips the collar with heavy-duty nickel-plated hardware. This ensures a reliable connection from owner to the strongest of dogs. The collars are available in four widths, from 1 to 2 inches wide. They'll fit dogs with neck sizes from 17 inches to 23 inches. Finally, as a nice bonus, you can have your dog's name stamped onto the collar for free.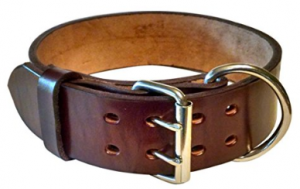 4. If It Barks Martingale Dog Collar: The Martingale collar is a limited-slip collar designed to keep dogs from backing out. As a result, this is an excellent collar for dogs with necks larger than their heads. This includes Irish Wolfhounds, Borzois and other sighthound breeds. The collar relies on two loops of adjustable webbing to provide even pressure around your dog's neck and limit pulling. The webbing is heavyweight nylon and features metal hardware.
The Martingale comes in a variety of colors and three sizes. A medium works for dogs with neck sizes from 15 to 22 inches. The large fits dogs with neck sizes ranging from 19 to 30 inches. Customers love the Martingale for its durability and design that prevents "escape-artist-types" from getting out of their collars. Others say it's the first collar that hasn't made their dog itch and scratch around the neck. Plus, If It Barks makes their collars in the USA, in North Carolina.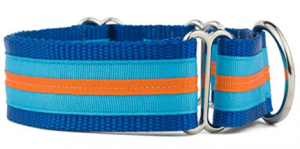 5. Signature K9 Heavy Agitation Collar With Handle: The Signature K9 collar is another heavy-duty latigo leather model built to survive rigorous training sessions. That's because it features a double layer of 2-inch wide leather and a handle that makes it easy to secure your dog. The hardware is very sturdy and the collar is another USA-made product, assembled in Pennsylvania. The K9 comes in one size. It measures 26 inches long and is adjustable from 16 to 24 inches, depending on your dog's neck size. Owners of large breeds including Bull Mastiffs, Saint Bernards, Irish Wolfhounds and German Shepherds love it. They say the collar is sturdy and great for control.