This post contains affiliate links, and I will be compensated if you make a purchase after clicking on my links. There is no cost to you, and I only recommend products that I would use.
There are many reasons to bring a dog bed when you travel with your dog. Whether you're on a car trip or heading to your favorite campground, a dog bed will help:
Keep your dog comfortable
Keep your car or tent cleaner
You keep your sleeping bag to yourself
There are hundreds (if not more) dog beds on the market. And it might be tempting to try to stuff a standard dog bed into the car or tent.
The problem?
Just like your own bed, most dog beds for home use aren't so great for traveling.
Because:
They tend to be big and clumsy to move around
The fabric is generally not designed for the wear and tear of travel
They can take up a lot of space in your car, tent or RV
So, we've found an inflatable travel bed that takes away those hassles and makes traveling with your dog a joy.
Lightspeed Outdoors Self-Inflating Travel Dog Bed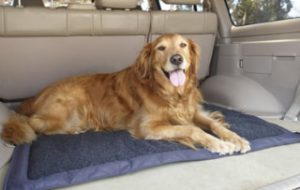 The Lightspeed Outdoors Self-Inflating Travel Dog is purpose-built for use in the outdoors. The sides and bottom of the bed feature sturdy, 900D (denier) polyester with a  water-resistant coating. Those sides are meant to take the abuse of dog paws and nails, while the bottom takes the brunt of being moved and having a dog lay on it.
But it wouldn't be much of a bed if it wasn't comfortable. So the Lightspeed features a large rectangle of soft fleece on the top that makes a comfortable sleeping surface for your dog.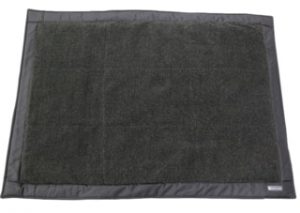 Thoughtful Features
The bed can be rolled up. This might not sound like a big deal, but it's far easier to roll up a bed for storage than to cram a full-size bed into a closet or back of the car
And, the bed stays rolled up thanks to a pair of straps terminated with nylon buckle clips
It's self-inflating! That's great for several reasons. First, you don't need to carry a separate pump or worry about hooking into electricity to fill the mattress with air. You won't be gasping for air trying to blow up the bed with your own lungs
Easy to clean. With a removable shell, you just need to unzip it and throw in the wash as needed
Quick-drying. The mattress top is designed to dry fast, so you're not dealing with a wet, spongy bed
How To Use
The Lightspeed is very easy to inflate.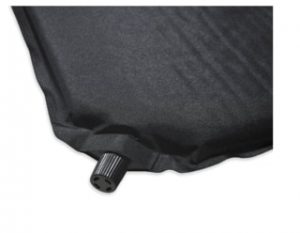 There is a nozzle at one corner that you turn one way to open and inflate. It takes a few minutes for the mattress to inflate fully, but it's still easier than huffing and puffing through a mouthpiece. Once it's fully inflated, you turn the nozzle to the closed position and the bed is ready for your dog.
To remove the air, once again turn the nozzle to the open position and roll the bed just like rolling up a sleeping bag. As you do so, the air will be pushed out and the mattress will flatten. The Lightspeed rolls into a compact 32-inch x 6-inch tube for easy storage. And at about 3 pounds, this bed can be carried by nearly anyone.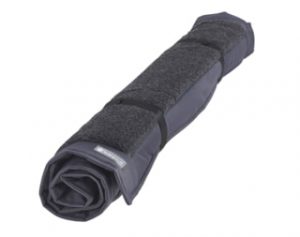 Versatile
Although designed for travel, the Lightspeed is also an excellent pad for crates or as a secondary bed to keep in another room in the house. With its low profile, it makes a good warm-weather bed, too. If your dogs shy away from a thick bed during the summertime, this could be a good secondary bed for the season. It's also a great low-profile pick for RV travelers, who must maximize every inch of space in their mobile homes. Roll it up when not in use, unroll and inflate when needed.
Consensus
Customer reviews of the Lightspeed are very positive, with better than 75% of Amazon reviewers giving this bed 5 Stars, and some 95% saying this is a 4-Star or better product. Some have called it the best dog pad ever. Others love it because it is easy to use, clean and super sturdy. Many have purchased more than one of these beds for their four-legged friends or given them as gifts.
If there is a downside, it's that the bed is currently available in one size only: 42 inches x 32 inches x 2 inches (inflated). It's big enough for a large dog, but not a good fit for giant breed.
But for all other dogs, this is an excellent travel dog bed and good value for the money.
For your car, camper, tent, RV or boat, the Lightspeed Outdoors Self-Inflating Travel Dog is certainly worth a look. See the current price here.