This post contains affiliate links, and I will be compensated if you make a purchase after clicking on my links. There is no cost to you, and I only recommend products that I would use.
Welcome to SportyDogGuide's Diamond Plate Orbee Ball review!
I know that many dogs love to play ball, but I've never known one who loved it more than my dog Keats.
Keats was a natural-born ball player. Always ready for a game of throw-and-retrieve.
The picture above could have been taken nearly any day of his life. When he was awake, chances were good there would be a ball nearby. And boy did we go through some tennis balls!
But I always felt uneasy about giving him and my other dogs tennis balls. Some dogs will chew the covers off, sometimes eating the green material in the process. I'm not sure what this material is, but I know it isn't meant to be taken internally. You know that tennis-ball "smell"? It's pure chemical. I wanted something different.
So I started researching safer alternatives. I wanted something that was non-toxic. Something that I could feel good about giving Keats and my other dogs.
Then I found the perfect ball for Keats. The best dog ball I've found.
The Planet Dog Orbee-Tuff Diamond Plate Ball
Diamond Plate Orbee Ball Review
What makes the Planet Dog Orbee-Tuff Diamond Plate Ball so good? This ball stands out for several reasons:
Non-toxic – it's made of FDA-approved materials and doesn't contain nasties such as BPAs and phthalates
Made in the USA – so many dog toys are made in China and countries where pet welfare is less important than profits
Bouoyant – this ball floats, so you can use it in the pool or at a lake
Holes for treats – there are two holes that you can push treats and kibble through and use the ball to keep your dog occupied in that way
Dishwasher safe – easy to keep clean
And, it's dog-tested and approved!
The Orbee-Tuff was an instant hit with Keats and became his go-to ball for years. In fact, it was his favorite toy ever.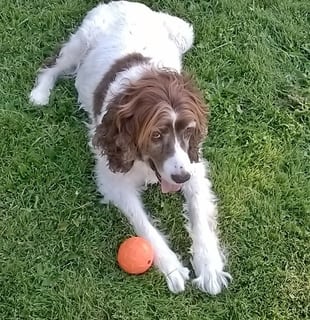 But there are more reasons why I love this ball.
The Right Size
It is about 1/2 inch larger in diameter than a standard tennis ball. While it can be too big for smaller dogs, it reduces the risk of a larger dog accidentally swallowing it. For medium and larger dogs, it's a great size.
Give and Take
It's firm yet squishy. Keats would often take the ball in his mouth and bite up and down on it. As he did so the Orbee would compress and then quickly regain full shape. You can hear the air go out of it, so it acts something like a squeaky toy without all the noise. That kept him entertained when we weren't playing directly.
And when you throw it, the Orbee-Tuff makes a slight whistling sound that your dog can key into if the ball goes out of sight.
I also like that it is soft enough that you don't have to worry about your dog's teeth if he or she catches it in air or goes at it hard. It's very forgiving and very safe.
Up and Down
The Orbee-Tuff bounces, which is another nice feature. It doesn't have tennis-ball bounce, but it's pretty close.
Durable
The Orbee-Tuff is tough. There is no such thing as an indestructible dog ball. Some dogs will destroy any toy they are given.
That's a given.
But for most dogs, the Orbee-Tuff will provide steady service, day after day. Even owners of heavy-chewing dogs have reported great success with this product. There's no cover to chew off or fabric to worry about your dog possibly ingesting.
The ball I bought for Keats lasted more than 5 years, never ripping or tearing. When we had to say our sad goodbyes to the gentle soul at nearly 16 years of age, we retired the ball and his collar out of respect.
Easy to Find
It comes in three colors (orange, violet, silver). I really like the orange version (closer to a bright orange) because it's easy to see. When grass gets long in the summer, a tennis ball can quickly disappear in the greenery. And during our long northern Wisconsin winters, the orange ball is much easier to find under the snow than tennis balls and the like. The color doesn't fade even after years of use inside and out.
Easy to Clean
As I mentioned before, the Orbee-Tuff is dishwasher safe. It is also very easy to clean with just soap, water and a rag or sponge. It can – and does – get slimy and dirty with use, but cleans up nicely. Can you say the same about tennis balls or other toys?
Conclusion – Best Ball Out There
The Planet Dog Orbee-Tuff Diamond Plate Ball is the best of its kind on the market. I highly recommend it for dogs who love to chew, aggressive chewers and for dogs who love to play fetch.
If your dog has killed a Kong, ripped a rope or bitten through other balls in minutes, give the Orbee-Tuff a try. It's a great product and one you can feel good about giving to your dog.
If there's a better dog ball out there, I haven't seen it.