This post contains affiliate links, and I will be compensated if you make a purchase after clicking on my links. There is no cost to you, and I only recommend products that I would use.
It's important to keep your dog hydrated when you're on the go. Whether you're walking, hiking or biking with your dog,  you should have clean drinking water at the ready.
The problem with carrying water is that it can be a problem.
It can be messy.
It can be a hassle.
Years ago, I had a collapsible dog bowl that I would bring with me while hiking with my dogs. The bowl gave me many years of service, but it wasn't convenient to carry. After use, I always had to wash the bowl with a hose and let it air dry for several hours because it wasn't dishwasher friendly. And I also needed to carry a separate bottle just for water. Two items were one item too many.
Fortunately, there is a much better option available now.
A dog water bottle with bowl attached.
Or make that with "leaf" attached.
Lumoleaf Pet Water Bottle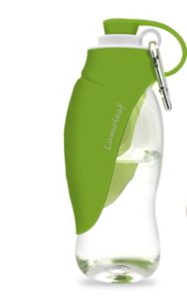 The Lumoleaf Pet Water Bottle is an all-in-one water bottle and drinking bowl. And as I mentioned before, that "all-in-one" feature simplifies things. This bottle is all you need to carry to ensure your dog has clean drinking water and a surface to drink from. It includes a handy, removable aluminum buckle clip that can be secured to a backpack, belt loop and even the handle of a leash.
It comes with a 20-ounce bottle, although the leaf is compatible with most 20-ounce water bottles. The expandable silicone leaf features a leak-proof hermetic seal compatible with other bottles having 30/38 millimeter (1.2/1.5 inch) water necks. So, you can clip your own bottle to the leaf if desired. The included bottle is made from BPA-free plastic while the leaf cap is 100% food grade-silicone. And the whole works is dishwasher safe, so cleaning is a cinch.
In Use
To give your dog water, open the top and fold the leaf down so it rests parallel with the water bottle. Then squeeze the bottle to deliver water into the leaf and let your dog drink up. The "drinking" leaf is 6.5 inches from front to back, so your dog will have plenty of room to navigate with his or her tongue. When done, fold the leaf back until it rests against the bottle. Outside of folding and unfolding the leaf, it's basically a one-handed process to give your dog water.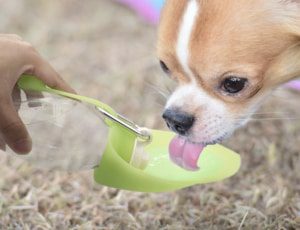 Thoughtful Features
Some dog water bottles are designed to allow any remaining water in the "bowl" to drain back into the bottle, so there is less waste. The Lumoleaf does not permit such action. I think it's better that it doesn't because it ensures your dog will always get clean water instead of any "recycled" liquid that might otherwise drain back into the bottle.
Another nice feature of the Lumoleaf is its capacity. The 20-ounce bottle will give your dog (or dogs) plenty of thirst-quenching water without weighing you down too much. Twenty ounces of water weighs about 1.3 pounds, so even with the weight of the bottle you'll be carrying less than 2 pounds total. And at just 8 inches tall and 3.25 inches wide, the Lumoleaf maintains a compact footprint. In fact, when the leaf is folded in the bottle will fit in most car and truck cup holders.
Some dog water bottles have skimpy capacities of less than 12 ounces. That might be fine if you have a very small breed dog, but many dog owners will find that a medium-size pooch can quickly drain a small bottle. It's better to have more water than too little.
Lastly, the bottle itself is tapered in the center. This makes it easier to hold and squeeze, as opposed to a bottle that is the same diameter from top to bottom.
Conclusion
The Lumoleaf offers convenience and practicality in an easy-to-carry outfit. Whether you're hiking, biking, walking, running or just on a road trip with your dog, the Lumoleaf is a great dog water bottle. It's the all-in-one way to keep your dog hydrated, healthy and happy.
Pick a color and get your dog a Lumoleaf today.