This post contains affiliate links, and I will be compensated if you make a purchase after clicking on my links. There is no cost to you, and I only recommend products that I would use.
Welcome to SportyDogGuide's GHG Ground Force Blind review!
The best field blind for dogs should be easy to setup and take down. It should be light enough to carry long distances and compact to make transport easy. The best field blind should also be durable to stand up to weather, dirt and the comings and goings of your dog. And it certainly needs to keep your dog concealed.
If you're looking for a field blind that can do all this – and do it well – meet the GHG Ground Force Hunting Dog Blind.
The GHG Ground Force Hunting Dog Blind, from Avery Outdoors, is a terrific low-profile blind. Here's a quick rundown of what makes it so good.
Outstanding Features
Folds flat for easy storage
Super-quick setup
Camo straps give you more concealment options
Shoulder strap offer easy transport
Lightweight – just 6.5 pounds
Corner stakes for better blind stability
Sturdy, one-piece construction – no extra parts to worry about
Excellent value for the money
See Current Price
Dimensions
When setup, it measures 36 inches long, 22 inches wide and 17 inches tall. When folded flat, the blind is less than 2 inches thick. It's also easy to carry, weighing just 6.5 pounds, thanks to a lightweight yet sturdy aluminum alloy frame.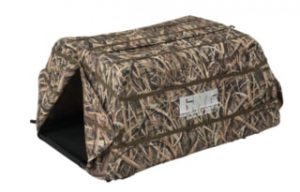 There are doors with Velcro closures on the front and rear, so your dog can easily enter and exit from either end. The cover and floor feature DuraMax fabric, known for its durability and stain resistance.
Built To Blend In
The blind is adorned with Mossy Oak's Shadow Grass Blades camouflage pattern. If you want even more cover, you can stuff grass and foliage into the 7 rows of camo straps that run across the top and sides of the blind. This gives you almost unlimited ability to tweak the outside to match the surrounding environment.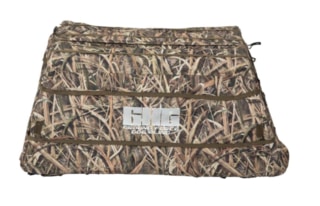 Sets Up In Seconds
The last thing you want to do is waste time in the field with a complicated blind setup. The GHG Ground Force is dead simple to erect. Lay it flat and make sure the carry strap is tucked underneath. Undo the corded locking mechanism and then open the blind from both ends.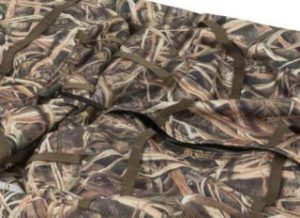 Inside the blind are two bars that you must connect: a spring-loaded bar and a matching bar. When these are joined, they create a stable frame across the top of the blind. The spring-loaded bar also features a printed reminder indicating what direction to push the bar into place, so you'll always get it right. Once the bars are secured, you can then conceal them beneath a camo flap that attaches to the top fabric with Velcro.
Stake It For Stability
Another really nice feature can be found at the corners of the blind. There are stakes attached to elastic cords that are tucked into Velcro pockets. Pull out the stakes and set them into place. If you're out in windy weather or if your dog tends to move and shift the blind, you can stake the corners to keep everything stable.
Size Matters
The Ground Force Blind is designed for dogs whose shoulder height is under 23 inches. If you have a very large retriever, this blind might be too small. Measure your dog to make sure he or she will fit into this blind comfortably.
Make An Early Introduction
To ensure your dog will enter the Ground Force Blind – or any other blind – when it's go time in the field, make sure you introduce him or her to the blind long before. At home, you can teach your dog to enter and exit using treats. Set up the blind in the backyard and have fun. Once your dog is comfortable going in and out of the blind, you can set out a dummy for retrieving practice and to mimic what will happen in the field. Teach your dog to go from the blind to the dummy and back to the blind again.
Conclusion
The GHG Ground Force Hunting Dog Blind has everything you want in a field blind. It sets up in a flash so you can spend more time in the field and less time fiddling. Its low-profile design helps keep your dog hidden from view. It's simple, lightweight, effective and durable. And if your budget is tight, you can get a GHG Ground Force for less than 100 bucks! For the money, you can't buy a better blind. See the price with free shipping included.