This post contains affiliate links, and I will be compensated if you make a purchase after clicking on my links. There is no cost to you, and I only recommend products that I would use.
If you're shopping for a dog crate for your Vizsla, you'll want to find the best crate possible.
I've researched dozens of dog crates and selected what I believe is the best overall crate for a Vizsla.
Hopefully, my efforts will save you time in your search for the perfect Vizsla crate.
Here's what I found.
The Best Dog Crate for a Vizsla
MidWest Life Stages Double Door Folding Metal Dog Crate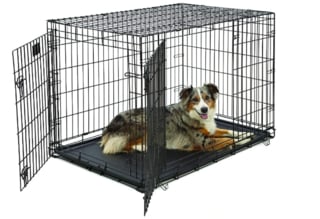 For the price, features and versatility, I really like Midwest's Life Stages Double Door Folding Metal Dog Crate.
Recommended Size – Large: 42 inches long by 28 inches wide by 31 inches tall.
See Current Price
This crate has many features that make it the best dog crate for a Vizsla. Here are just a few:
It's big enough
The crate is sturdy
The crate is easy to set up and take down
The crate is affordable
Let's start with size first.
Why Crate Size is so Important
When choosing a crate for your Vizsla (or any other breed), it's important to remember that your dog will do more than just lay in the crate. There needs to be enough room for your dog to sit, stand and turn around.
Vizlas are medium-sized dogs, but they are generally long and lean so they need more space than you might think from measurements alone.
Some manufacturers recommend a 36-inch long crate for a breed of the size of a Vizsla.
But that's too small.
Why?
Because you can't size a dog crate based solely on how much your dog weighs.
And, because every dog breed – and dog – is different.
A 50-pound Vizsla isn't remotely similar in body shape or height/weight distribution compared to a 50-pound English Bulldog.
You want to make sure the crate is big enough. Even if you're buying a crate for a Vizsla puppy, what seems huge quickly gets smaller as your dog grows.
Bigger is Better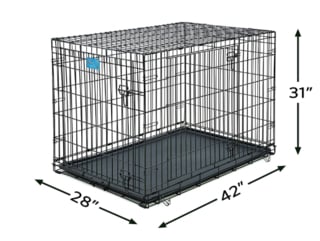 I would strongly recommend going with a 42-inch long crate. When it comes to dog crates – in general – it's better to go big than small. A little extra room is much better than putting your dog into a cramped space and hoping for the best.
I also recommend buying a crate with a divider panel. Even if you have an adult dog now, you might get a puppy in the future. If so, your current crate can be re-purposed and you can move the divider back as you need to make the crate bigger as your dog grows.
The bottom line is that the crate should be easy for your dog to enter and exit. It shouldn't feel constricting or threatening. Chances are your dog will spend many, many hours in his or her crate. That's why it's so important to choose the right-sized crate from the start.
Do I Need a Bigger Size Crate for a Male Vizsla vs a Female Vizsla?
No.
When it comes to the proper size crate for a Vizsla, Midwest Life Stages gets it right. The company suggests the Large (42 x 31 x 28) crate for Vizslas. And that's the way to go, whether you have a male or female.
Female Vizslas are generally smaller than male Vizslas. According to the American Kennel Club the average heights and weights of males and females are as follows:
Height: 22-24 inches (male), 21-23 inches (female)
Weight: 55-60 pounds (male), 44-55 pounds (female)
There are always the cases of the very large male or the very small female, but on average the height/weight difference isn't so pronounced that you would need a different-sized kennel for a male Vizsla versus a female.
Sturdy Construction
I own a medium-size Midwest Life Stages crate and can say that it has stood up well to daily use from my dog Winston. The steel has never bent or shown signs of wear. The coating looks like new. And the hard plastic pan that lines the crate hasn't chipped or broken anywhere.
This is a durable and reliable crate, but it's not for every dog. If your Vizsla has anxiety or has busted out of a crate previously, you're probably better off investing in a heavy-duty kennel like this model from KELIXU.
But for most Vizsla owners, the Midwest Life Stages should be sufficiently strong and able to keep your dog safely crated when desired.
Easy Setup
You can set this crate up in less than a minute. There are no tools required. This video shows how easy it is.
Handles with Ease
And if you need to travel with the crate, the whole thing folds up neatly and features a handle for easy transport.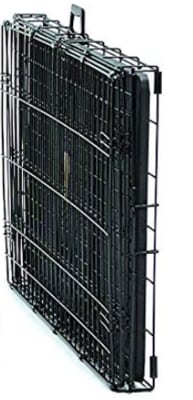 Wire Crate or Hard-Sided Crate?
When it comes to dog crates, you have two main choices – wire crates or hard-sided crates. Here's why I like wire/metal crates over hard-sided crates.
They are much easier to set up and take down
Easy to clean and won't stain
Generally they stand up to wear and tear better than plastic-sided crates
They can be folded like a suitcase and carried for easy transport
Provide 360 degrees of visibility to see in and out of
They offer good airflow through the crate
It's easy to put a blanket or other cover on the top of a wire crate to make your dog feel more secure
The disadvantages of wire crates can include:
They can scratch hard-wood floors and other surfaces if the bottoms aren't protected
The wire "look" isn't for everyone
Cheaply made crates can bend or suffer other damage
Some Vizsla owners prefer a hard-sided crate. These crates can be really good for dogs with anxiety.
For many years, I've had a plastic-sided Petmate Deluxe Pet Porter for my dog Rory. He doesn't need to be crated for any behavioral issues, so I took the front gate off. Inside is a puffy bed comforter that I fold over twice to create a soft and cozy spot for him to relax. He uses the crate as his own private space and seems to like it for sleeping during the day or just hanging out.
However, it's not something that I would consider taking apart and trying to go somewhere with it. It's a pain to do so, while the wire crate is easy to break down if I need to.
Two Doors are Better than One
You might not need a dog crate with 2 doors now, but if you travel or move in the future you'll be happy to have that extra door. It could mean the difference between easy access for your dog or having to buy a new crate
And that extra door provides greater flexibility for where you put the crate. If you have an area that it would work better with the side door facing out, then you can do that easily by turning the crate 90 degrees. Simple!
Floor Protection x 2
A really nice feature of this crate is its protective roller feet. These keep the bottom of the crate raised just off the floor so if you move it or your dog happens to shift it, your floors won't get all gouged up.
My house has hardwood floors in the living room, so having a crate with rubber feet helps alleviate a lot of wear and tear on the floor.
Additionally, the hard plastic floor plan is waterproof and has a lip designed to keep any spills or accidents contained. You can also pull the pan out to wipe down or take outside for a rinse with a hose.
With hard-sided crates, you're generally stuck crawling into the crate to wipe the bottom down because the floor is molded to the sides. And those sides get dirty, too.
Extra Security
Some crates have a single-latch system to close the door. This crate features two slide-bolt latches per door, so if one happens to joggle loose there is a backup to keep your dog safe and secure.
Terrific Value for the Money
I mentioned earlier that the MidWest Life Stages Double Door Folding Metal Dog Crate was affordable. There are many cheaper – and more expensive – crates on the market. But few offer so much bang for the buck.
If you're looking an excellent dog crate, you don't have to spend $150, $125 or even $100. You can get this crate and still have money leftover for treats, toys or dog food.
I was surprised at how cheap you can buy this crate from the listing on Chewy.
You can order the Midwest Life Stages on Chewy and get free shipping.
Summary – 10 Reasons Why This is the Best Dog Crate for Vizsla
Here's a quick recap of why this is the best dog crate for a Vizsla:
The perfect size
Durable construction
Easy to set up and fold down
Handle makes for easy transport
Roller feet won't scratch floor surfaces
Two doors for super easy access
Double slide-bolt latches for added security
Floor pan keeps any accidents from spilling out
Easy to clean
Great price