The Best Folding Dog Ramps for Cars Reviewed for 2021
I researched 100 of the most popular portable folding dog ramps for cars to find the very best models.
Find my Top 5 choices below…
This post contains affiliate links, and I will be compensated if you make a purchase after clicking on my links. There is no cost to you, and I only recommend products that I would use.
If your dog frequently travels with you in your car, then you probably need a portable dog ramp. They make life so much easier for you and your dog when it comes to getting into and out of a vehicle.
A portable dog ramp should be easy to use. There's no reason to spend a bunch of money on a model that you use once or twice, only to decide that it's more hassle than it's worth.
Or that it's not safe for your dog.
That's why I looked at 100 of the highest-rated, portable folding dog ramps and made a list of the 5 best. One of these models will likely work for you and your dog's needs. Let's take a deeper dive into the best dog ramps now.
Quick Take: Here are the 5 best folding dog ramps for cars in 2021
Best Foldable Dog Ramps Compared
| Model | Capacity | Weight | Open Length | Width |
| --- | --- | --- | --- | --- |
| Gen7Pets Natural Step Ramp | 250 pounds | 17 pounds | 72 inches | 16 inches |
| Solvit PetSafe UltraLite Bi-Fold Pet Ramp | 150 pounds | 10 pounds | 62 inches | 16 inches |
| Goplus Pet Ramp Portable Aluminum Folding Paw Safe Dog Ladder | 250 pounds | 16.5 pounds | 84 inches (7-foot model) | 15 inches |
| Good2Go Portable Pet Ramp | 200 pounds | 19 pounds | 72 inches | 16 inches |
| PetSTEP Original Folding Pet Ramp | 500 pounds | 18.5 pounds | 70 inches | 17 inches |
The Gen7Pets Natural Step Ramp is one of the two best overall dog ramps that I researched. It has the right combination of features and functionality that make it a top choice for most dogs and vehicles. The soft, turf-like walking surface provides comfortable and reliable traction, even when wet. And the surface is also gentle on dog's paw pads. The heavy-duty plastic construction is built to stand up to use and support even large breeds. You can also spray the ramp with a hose to clean it up as needed. There's even a protective layer where the ramp makes contact with a vehicle to prevent scratching and other damage.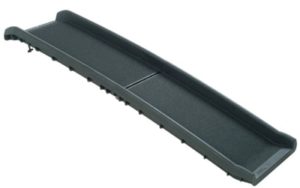 At just 10 pounds, the Solvit PetSafe UltraLite Bi-Fold Pet Ramp is a blessing for dog owners who can't lift a lot of weight or are always on the go. It features four rubber feet that help keep the ramp in place. There's also a safety-release latch to prevent the ramp from opening accidentally. And I really like the side rails that provide "bumpers" to help keep your dog from slipping off the edge. The ramp also sets up quickly and folds down likewise for storage. Where customers have run into problems is with the textured walking surface, that some describe as feeling like sandpiper and hurting their dog's paws. But if you're shopping for a ramp at a bargain price, you won't find a better model for the money.
Specs: Open Dimensions – 62 inches long x 16 inches wide x 4 inches high. Weight: 10 pounds.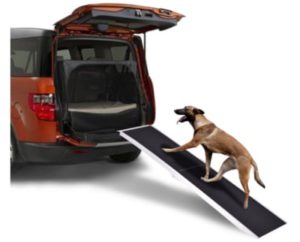 The Goplus Pet Ramp has a lot of good things going for it. Because it's made from aluminum, it will likely last for decades. It's the only ramp here that is available in three different lengths, from 6 to 8 feet, so if you need a shorter or longer ramp to fit your vehicle the Goplus is a strong recommendation. The 7- and -8-foot versions are a great solution if you have a very large truck or an RV that sits high off the ground. As 6-footers tend to create too steep an incline with those vehicles. Plus, this ramp is very sturdy and a great pick for those of you with large dogs. The two downsides of this ramp are its width – narrow at 15 inches – and like the Solvit Pet Ramp reviewed above, the walking surface is too sandpaper-like for some customers. But with those caveats, this is a really well-made ramp that many customers love.
Specs: Open dimensions – 84 inches long x 15 inches wide. Weight: 16.5 pounds.

The Good2Go Portable Pet Ramp is one of two here that feature an artificial turf for a walking surface. Overall, I like the turf approach better than grip tape that a couple of the other models use. I think the turf is easier on a dog's paws, softer to walk on and provides better traction. Customers with older dogs – and even blind dogs – have reported great success with this ramp.
Specs: Open dimensions – 72 inches long x 16 inches wide. Weight: 19 pounds.
See Current Price
The PetSTEP Original Folding Pet Ramp is simplicity itself, featuring a sturdy plastic-fiberglass composite that's rated for up to 500 pounds. The ramp has built-in molded handles that make it easy to grip and there's no parts that stick out or get in the way. Unlike the other ramps reviewed here, the PetSTEP has a grooved non-slip rubberized walking surface of horizontal ridges from top to bottom. There's no turf or grip tape, so there's nothing that might peel or bubble from use or temperature. And because the ramp is essentially one-piece, it's super easy to clean. Another great feature is the width. This ramp is 17 inches wide – the widest of any here – and that extra inch or two can make a huge difference if you have a very large dog.  If you have a larger breed dog, this is the ramp for you. But it's a great option for anyone, except if you have a very high vehicle as the ramp is just 70 inches long.
Pros
Is a Ramp or Stairs Better for Dogs?
Pet stairs definitely have their place and use. In the home, pet steps are a great choice for helping your dog up onto a bed or other furniture. They can be particularly handy if you have a very tall bed, such as one 36 inches high.
Pet stairs generally take up less space than ramps and can be left in place, if desired. They are, however, steeper and can be more difficult for dogs with hip and joint issues to navigate.
Ramps, on the other hand, are really purpose-built to provide a gentle and single slope for dogs entering and exiting vehicles. Ramps are lifesavers if you have an elderly dog or one with health issues that make it difficult to walk on stairs.
In summary,
Dog Ramps are Better for:
Dogs with leg or joint issues that make it painful to use stairs
Elderly dogs or dogs with arthritis that may have trouble navigating stairs
Producing longer, gentler inclines that are better for such cases as getting into cars
Dog Stairs are Better for:
Indoor use, where space is often a limiting factor
Helping your dog get onto your bed or couch
Conclusion
After hours and hours of researching portable folding dog ramps online, I narrowed my search to pick the Top 5 models. I'm hoping my work will make your choice easier. I go back and forth whether I like the Gen7Pets Natural Step Ramp best of all, because the PetSTEP Original Folding Ramp is a strong contender for the top. And if you have a very large dog, it's the best choice. For those with larger vehicles, the Goplus Pet Ramp in the 7- or 8-foot length is a good pick.