This post contains affiliate links, and I will be compensated if you make a purchase after clicking on my links. There is no cost to you, and I only recommend products that I would use.
Great Danes are one of the largest breeds in the dog world. Adult males can stand 32 inches high and weigh 175 pounds – or more!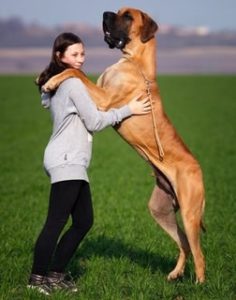 Because of their large size, Great Danes require large dog boots.
Let's look at how to choose dog boots big enough for a Great Dane.
How to Measure Your Great Dane for Dog Boots
Before buying any boots for your Great Dane, you'll need to take a foot measurement to ensure a good fit. It's likely your dog will need the largest boot made by the manufacturer- XL, XXL, etc. – but you'll want to confirm.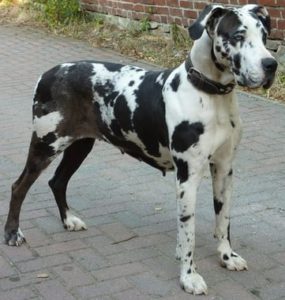 Here's a quick, 3-step process to measure your dog's foot for boots.
Get your dog to stand
Identify the widest part of your dog's paw and measure it with a tape or string
Then measure the distance from the heel of your dog's paw to the front of the paw, including toe nails
You can now use these measurements to find the right-size boot for your dog
Dog Boots for the Dog Days of Summer
Even though it's summer time and the livin' might be easy, that doesn't mean it's easy on your dog's paws. Streets and sidewalks can reach uncomfortably hot temperatures. Maybe you spend time at the beach? Well, sand can reach temperatures well over 100 degrees. Even a walk in the woods can present hazards such as thorns, small sticks and other debris on the ground. Dog boots can keep your Great Dane's feet protected from heat and other foot irritants.
Best Dog Boots for Great Danes in Summer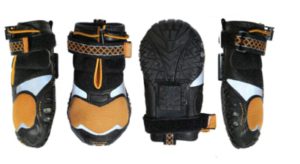 Thanks
If you spend a lot of time hiking or walking with your dog, the Kurgo Step & Strobe Dog Boots are built for such activity. These high-performance boots look a lot like human hiking boots, with rugged soles, velcro and bungee straps. They even come with soles that light up for visibility during night-time walks. Many customers like the Step-N-Strobes for year-round use. Some have had problems, though, with the boots staying on their dogs.
Dog Boots for Winter
Dog paws are pretty tough and can stand up to a lot. However, they are not immune from winter-time conditions such as ice, road salt and other chemicals. If you live in an area that receives consistent snow, you know how quickly snow and ice can accumulate in your dog's paws. It's always easy to tell because your dog will hold the affected paw off the ground and/or attempt to remove the snow and ice with his or her teeth.
Slipping is another concern.
With their long legs, Great Danes can have trouble navigating across slippery, icy surfaces. This can lead to spin-outs and falling on ice.
Dog boots can give your dog the needed traction to walk comfortably and confidently during the winter. Take them off before your dog enters the living areas of your home, and you'll keep snow, ice and more off your floors.
Best Dog Boots for Grate Danes in Winter
Muttluks Fleece-Lined Dog Boots in XL or XXL are a good choice for your dog in cold and snowy conditions such as roaming around the backyard in winter. They are also great for keeping your dog's feet warm inside on those very cold days. Muttluks are made in Canada, where they know a thing or two about winter.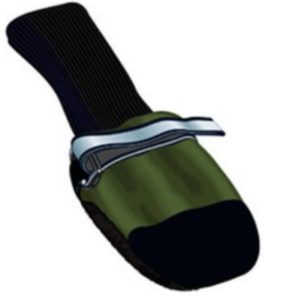 See the Muttluks Fleece-Lined Dog Boots in winter-time action in the snow.

Ultra Paws Durable Dog Boots (XL) are another good winter dog boot and my choice if you'll be walking your dog on or around salted roads and sidewalks.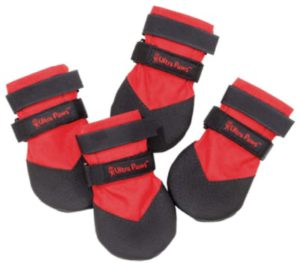 Here's a video showing more about the construction of Ultra Paws Durable Dog Boots and how to put them on your dog.
Dog Boots for Slippery Indoor Surfaces
If you have a home that has hardwood or tile floors, your dog might have trouble walking on these potentially slippery surfaces. Dog boots with a textured bottom for traction can make it easier to navigate inside. They are also great for dogs with bad hips, a bad leg or foot or even elderly dogs that don't have the leg strength they once did.
Best Dog Boots for Great Danes Indoors
Ultra Paws Cozy Paws Traction Dog Boots (X-Large) have a flexible, rubber soul that provides reliable traction. They also feature a soft fleece sleeve for comfort. You can get a set of four for less than $25, including free shipping. See what many happy customers say about this boot here. 
Boots in Twos and Fours
Sometimes, dog boots are sold in pairs. Unless you only need two boots, be sure you're ordering a set of four. It seems obvious, but you don't want your dog to be two boots short!
Time to Adjust
It's possible your dog won't take a fancy to boots right away. Give him or her time to get used to wearing them before you plan a walk, outing in the woods or in the snow. Start slow, putting one or two boots on the front paws and so your dog is comfortable with the fit and feel of boots. Then you can work toward putting on a full set of four boots. Create a positive association with the boots by rewarding your dog with a treat or offer a favorite toy right after you put them on.
Conclusion
Finding dog boots big enough for a Great Dane is as simple as measuring your dog's foot and finding a boot that fits. Dog boots can really help protect your dog's paws and pads from intense summer heat, icy cold as well as provide stability and traction on slippery surfaces.