This post contains affiliate links, and I will be compensated if you make a purchase after clicking on my links. There is no cost to you, and I only recommend products that I would use.
A 12-inch Dog Leash can make walking a big dog a lot easier.
A short dog leash with a handle gives you better control if your dog is a puller or you frequently walk in congested areas.
That's because a 12-inch dog leash makes it easy to keep your dog close by your side.
I mean, right by your side!
Whether you're walking a large dog on a busy sidewalk, working with a service dog, teaching your pup to "heel" or keeping your dog under control at the veterinarian's, a 12-inch leash is a versatile tool that nearly every dog owner will find useful at some point.
Here's a rundown of the very best 12-inch dog leashes on the market.
12-Inch Dog Leash – The Best Choices
EzyDog Mongrel Dog Leash
The Mongrel looks like a miniature water-skiing handle. It features a large handle with a neoprene padded grip that's super comfortable in the hand.
In fact, if you have arthritis in your hands, you need this leash.
Even if you don't suffer from arthritis, you've probably dealt with wrapping regular leashes around your hand to shorten the lead. This usually results in chafed hands and poor circulation. Hand pain is a thing of the past with the Mongrel leash.
The leash is not just comfortable for the walker, it's very sturdy and built to last. For example, an outer tube protects the braided leash cord. So, if your dog happens to grab the leash and start chewing, the cord will be safe.
The Mongrel is also designed to clip onto EzyDog's 24-inch tangle-free leash extensions. This is a handy option should you want to add a bit more length to the leash or you walk more than one dog at a time.
For around $20, the Mongrel is a stone-cold bargain, particularly for a product that customers have called "the perfect leash." See the current price here.
EzyDog Neo Mongrel Web Dog Leash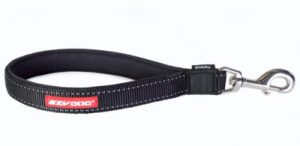 The Neo Mongrel is a bare-bones leash that many customers love for controlling big dogs or walking a group of dogs. This waterproof leash features a padded, neoprene-lined handle and a rugged snap hook for easy attachment. The leash material is a woven polypropylene rope rated at 1,500-pounds breaking strength.
Like EzyDog's Mongrel, you can attach the Neo Mongrel to the company's leash extensions for extra length and to walk two or more dogs.
Customers who walk large dogs describe the Neo Mongrel in glowing terms including "super strong," "very soft on the hands" and "the perfect leash for training."
You can purchase the Neo Mongrel in black or red. See both color choices here.
Leashboss Traffic Handler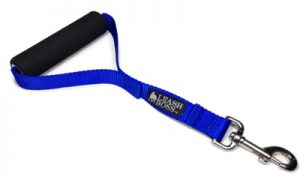 The Traffic Handler is one terrific leash. It features a super-comfy padded handle with plenty of room to get a great grip. The 1-inch nylon lead is coupled to a durable snap-clip that swivels, so you won't be getting tangled up around your dog's collar.
This is a great leash for service dogs, bad-mannered pullers or just to save your hands and arms. Customers also say it's a great choice for big dogs and makes walking a pleasure. If there's a better 12-inch leash on the market, I haven't found it.
Leashboss backs the Traffic Handler with a 5-year warranty that covers chewed leashes, defects and product issues. Available in black, blue and red. Get your Traffic Handler here today.
Leashboss Short Dog Leash with Padded Handle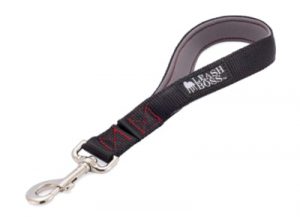 Leashboss's Short Dog Leash sports a double-layered, padded neoprene handle for a comfortable fit in the hand. The leash is made with 1-inch nylon webbing and weighs about 3 ounces.
Although lightweight, this is a leash that can stand up to the strength of large dogs such as German Shepherds, Rottweilers and Great Danes.
It comes in two patterned colors: black/red/grey and red/white/black. And it's made in the USA!
Customers love this leash. How much? On Amazon, some 95% say this is a 5-star product!
See what other customers have to say about this leash here.
Fairwin Leather Short Dog Leash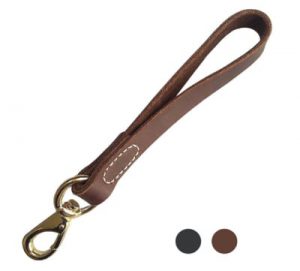 If you prefer a leather leash over one made with synthetic materials, the Fairwin Leather Short Dog Leash is an excellent choice. Fairwin makes it with 3/4-inch Italian leather and reinforces the stitched area around the metal clip with four layers of leather for strength and reliability.
The leash sports a strong alloy buckle clip that's super easy to attach to a collar or harness.
Fairwin says this leash can stand up to military and law enforcement training. And it seems to be a popular collar for those who own German Shepherds. Customers praise this leash for its soft but durable leather, quality craftsmanship and robust hardware.
You can get the Fairwin leash in brown or black.
LEATHERBERG Short Dog Traffic Leash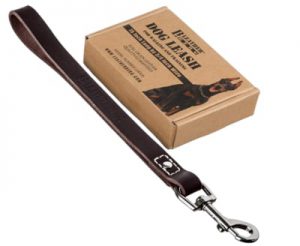 LEATHERBERG makes this sturdy, short leash with 100% Latigo leather. Latigo leather undergoes a combination tanning process that makes it durable yet supple. The result is a strong leash that's comfortable in the hand without being slippery.
The leash is 3/4-inch wide and double-stitched and riveted around the buckle. Customers say this is a very durable and high quality leash for the price and the perfect length for keeping large dogs close and in control.
You can feel good about buying this leash because LEATHERBERG donates a portion of proceeds each month to different canine rescue organizations across the U.S. And you can feel confident about your purchase, too, as it's backed by a 1-year, no-risk, money-back guarantee.