This post contains affiliate links, and I will be compensated if you make a purchase after clicking on my links. There is no cost to you, and I only recommend products that I would use.
Join me and let's look at what I believe is the best bottom storage dog box for 2 large dogs
If you're a dog trainer, breeder or avid sportsman, a sturdy, well-ventilated dog box is a necessary piece of gear.
A well-made dog box is an investment.
They are not cheap.
So, it's important that you get your money's worth the first time out. No regrets here.
The 55057W is the biggest dog box in Owens' Pro Hunter Series and designed to comfortably accommodate two larger dogs.
Outer dimensions: 46 inches wide by 45 inches deep by 32 inches high
Dog Compartment Dimensions: 23 inches wide by 44 inches deep by 23 inches high
Drawer/Storage Dimensions: 41 inches wide by 36 inches deep by 5 inches high
This double-compartment, bottom-storage box is built from sturdy, diamond-tread aluminum. Both compartments are lined on the top and bottom to keep your dogs protected and comfortable while riding, resting or sleeping.
The box has 4 spring-loaded handles – two on each side. This makes it easy for two people to move the box as needed. When not in use, the handles snap back flat and out of the way. You can also use the handles as tie-downs to your truck bed.
Note: this box is not designed to be mounted to the truck bed or anything else.
Why Bottom Storage?
If you're a shorter person, or you have a taller truck – or both! – you'll quickly appreciate the convenience of having bottom storage. Oftentimes with top-storage dog boxes, you have to climb into the bed of the truck to grab your gear. With a bottom-storage box, you simply pull out the drawer – no climbing required!
The bottom drawer is lockable and features a T-shaped handle that's easy to grab and pull. And there's plenty of room for whatever gear you need to stow.
Dry Drawers
A really cool feature of this box are the channels that sit just below the front doors and surround the storage drawer.

Should your dog happen to urinate in the box, any liquid that seeps under the front door will be funneled away from the drawer – and any contents – by the channels. This ensures your gear stays dry. Nice!
A Breath of Fresh Air – And Then Some
The Owens 55057W will keep your dog cool, even during warm weather. That's because this box has generous ventilation.
The front doors both feature adjustable and removable storm cover panels to ensure adequate ventilation and protection from the elements. There are also cut-outs above each door, where you can install a fan for even more air flow.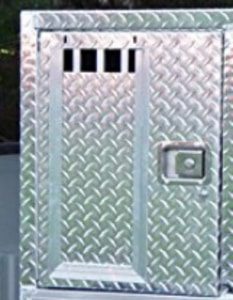 There's also ample ventilation ports on the sides and back of the box. And these also sport adjustable/removable storm panels. Lastly, there's even more ventilation between the two compartments themselves. The result? Your dogs get plenty of fresh air.
Safe and Secure
There's nothing more important than your dog's safety and well being. That's why this box features slam-latch doors and an extra turnkey lock for added security and peace of mind. No matter how many times you've used a crate or box, you can't be too careful when it comes to keeping the doors shut. And the locks themselves are high quality and very sturdy.
You can likewise secure the box to your truck bed with the side handles.
See Current Price
Summary of Outstanding Features
First-rate craftsmanship – the box is built to last for years
Redundant, double-locking system provides absolute security for your dogs
Bottom storage drawer makes it super easy to access your gear
Plenty of ventilation on front, rear and sides to keep your dogs cool in warm weather
Grooved channels on storage drawer keep water and other liquid out – your gear stays dry
Spacious – roomy enough for two large dogs or even more smaller dogs
Conclusion
The Owens 55057W is a superbly made and designed dog box that is built to last. It's a terrific choice if you live in warmer climates and need room for two or more dogs.
If dogs are your life, consider this an investment in the same.
A heads up: Give yourself plenty of time when ordering, as the box is very heavy and usually built on demand. See the current deal with free shipping here.