This post contains affiliate links, and I will be compensated if you make a purchase after clicking on my links. There is no cost to you, and I only recommend products that I would use.
If you had a home fire would your dog be able to make it out safely?
None of us likes to think about such an event, but some 40,000 dogs and cats die in house fires every year, according to Healthy Pets.
So, it's super important to plan ahead to avoid such an unimaginable loss of your own.
Let's look at how you can put the odds in yours and your dog's favor should a home fire occur.
6 Things You Need To Keep Your Dog Safe During A Fire
1. Emergency Plan
There's a reason why schools and workplaces practice fire drills. Should a real emergency arise, there's no time for guessing what you need to do or where you should go. It's time for swift and controlled action.
That's why you need an emergency plan that covers you, your family, your dogs and other pets in the case of fire.
Identify exits in every room of your house. Make sure each person knows where to go should fire occur.
Talk about where your dog likes to hang out during the day and night, and where he or she might hide if a fire breaks out.
It's a good idea to keep an extra leash near exits should you need to quickly control your pet.
And talk about where your family members will meet once everyone is safely outside.
Above all – practice your plan – and include your dog – until it's second nature.
2. Smoke Alarms
Fire safety at home requires reliable smoke alarms. Make sure you have enough alarms for your living space and that the alarms contain working batteries.
How many smoke alarms do you need?
Probably more than you think.
The National Fire Protection Association notes, "For many years NFPA 72, National Fire Alarm and Signaling Code, has required as a minimum that smoke alarms be installed inside every sleep room (even for existing homes) in addition to requiring them outside each sleeping area and on every level of the home. (Additional smoke alarms are required for larger homes.) Homes built to earlier standards often don't meet these minimum requirements."
Recommended Smoke Alarms
There are almost too many choices when it comes to smoke alarms. But I've found two that should work for most homeowners.
The Kidde i9080 is a battery-powered unit that features a safety light designed to provide 15 minutes of illumination when the alarm is sounding. The i9080 is a well-regarded unit at a very reasonable price.
If you prefer to hardwire your smoke alarms, I recommend First Alert's 9120B. This 120 V AC alarm features an ionization sensor and battery backup for extra reliability.
You can get a 4-pack for less than $50 and equip multiple rooms. Get the 9120B bundle here.
3. Fire Extinguishers
We all know what fire extinguishers are and what they're designed to do.
But have you ever used one?
Most of us have never held a fire extinguisher, let alone used one. That's why you should watch this short video tutorial to learn how to use a fire extinguisher.
Where Should You Put a Fire Extinguisher?
Here are the Red Cross' recommendations on where to place fire extinguishers:
"Install extinguishers high on the wall, near an exit and away from heat sources. Extinguishers should be easily accessible to adults trained to use them, and kept away from children's curious hands. Heat may make the contents less effective or cause the extinguisher to lose its charge more quickly."
Recommended Fire Extinguisher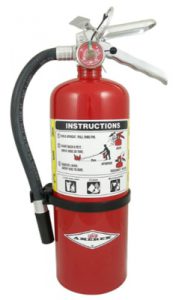 The Amerex B402 is a rechargeable, dry chemical extinguisher containing 5 pounds of extinguishing agent. This multi-purpose unit is designed to extinguish Class A (ordinary combustibles), Class B (flammable liquids) and Class C (electrical equipment) fires. It has a 14-second discharge time with a maximum range of 18 feet.
The rugged tank is made with steel and measures 15.25 inches tall and 4 inches in diameter. The Amerex B402 comes charged, ready to use and includes a wall bracket for easy mounting.
For the money, it's probably the best home fire extinguisher available. See the current price here.
4. Pet Alert Safety Stickers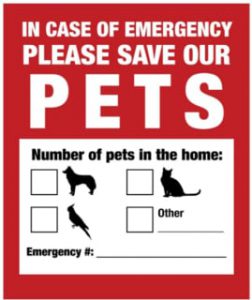 Pet alert stickers are something every pet owner should have.
Should a fire start when you're not home, you need to let rescuers know there are pets inside. For a few dollars, you can get a pack of pet rescue stickers that are easy to apply and easy for emergency workers to understand.
These stickers have adhesive on both sides, so you can apply them to the insides of windows or on the outside of doors. You can also indicate the number of animals/pets inside your home and include an emergency phone number.
You can get a 4-pack of these stickers for around $6.
5. Fire Escape Ladder
If you, other family members or your dog sleeps in a room on the 2nd or 3rd floor, a fire escape ladder might be the lone link from an upper window to the ground. If you're trapped upstairs and the only way out of the house is through a window, you need a safe and reliable way to make it out and down to the ground.
Recommended Fire Escape Ladders for 2- or 3-Story House:
X-IT Emergency Fire Escape Ladder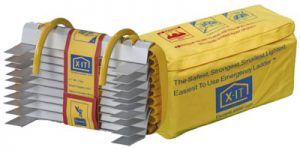 I like this ladder from X-IT for several reasons.
First, it is light and weighs less than 6 pounds. Even though it's light, it's rated to hold 1,000 pounds. You can deploy and access the ladder quickly. It also folds into a compact package for easy storage.
The downsides of the X-IT ladder are that it requires a window sill and the steps might be too narrow for some people.
Watch as a young boy practices with the X-IT ladder from a first-floor window.
Werner ESC220 Fire Escape Ladder
The Werner ESC220 is a permanent fire escape ladder solution that requires some installation. The plus side is that once installed, the ladder is always there – under the window – and ready for use. You don't have to search for it or fasten it to a window sill. Just pull off the cover and unfurl the ladder.
This ladder has a 1,200-pound total capacity and can be used by more than one person at a time. And each rung can support 400 pounds.
Here's a clip of the ESC220 in action:
6. Rescue Harness
There's little doubt that lowering your dog from a window is a difficult task. But it's likely the only way to get him or her to safety from an upper floor. So, what's the best way?
Unless your dog is small enough to carry or put into something designed for babies, you'll need a harness to assist you with lowering your dog.
Recommended Fire Rescue Harness
Singing Rock Laika Dog Harness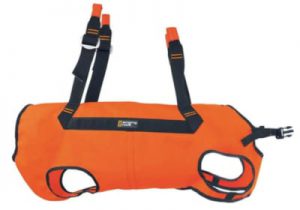 The Singing Rock Laika Dog Harness is one of the few harnesses on the market designed to transport a dog through the air.
It's a one-size-fits-most model designed to hold up to 330 pounds of weight. The top attaches around your dog's back with Velcro while the bottom is a solid piece with leg holes. The sides of the harness are reinforced with a light alloy material.
Besides the harness, you will still need some type of sturdy rope with attachments such as Carabiners to lower your dog from a window.
If you have ever used this harness, please let us know what you think!