This post contains affiliate links, and I will be compensated if you make a purchase after clicking on my links. There is no cost to you, and I only recommend products that I would use.
Welcome to SportyDogGuide's What Size Crate for a Boxer recommendation!
Purchasing the right size crate for your boxer is important for your dog's comfort and safety. It's common for some owners to buy a crate that is too large, erring on the side of caution, and they end up with a crate that isn't the best fit for their boxer. Others buy one that works great for a puppy, but is too small for the dog as an adult.
Let's look at the best size crate for a boxer. One crate that will be great for your dog, from puppy-hood to adult.
Sizing a Crate for a Boxer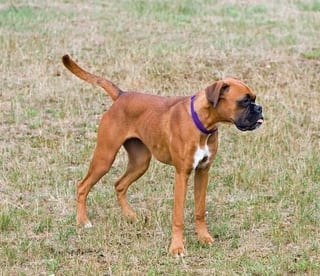 Getting the right-size crate for a boxer starts by looking at the average size for the breed. Like many dog breeds, male boxers are a bit larger than females.
How Big is a Boxer?
According to the American Kennel Club,  an average adult male boxer stands 23 to 25 inches tall, while females are generally 21.5 to 23.5 inches in height. Males run about 65 to 80 pounds, with females about 15 pounds less than males. There are always exceptions to the averages – some boxers will be heavier and taller, while some will be smaller than the norm.
What Size Crate for a Boxer?
Looking at the averages, you'll want a crate that is tall enough to accommodate big males. Such a crate will then work well for all adult boxers.
Midwest's 42-inch iCrate with Divider is an excellent choice for even the biggest boxer, as it's designed for large dogs weighing 71 to 90 pounds.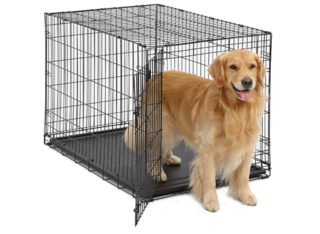 See Current Price
Plenty of Room
The crate measures 42 inches long, 28 inches wide and 30 inches high. This provides ample space for your dog to turn around in the crate without bumping his or her head, and there's enough leg room for adult males and females to lay comfortably.
Your Puppy Can Grow Into It
The divider is a nice option if you're bringing home a boxer puppy. You can gate off half the crate to keep your puppy in a smaller area and adjust it as he or she gets bigger.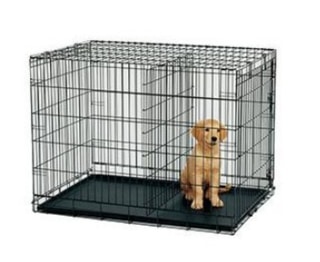 The iCrate has several other notable features that make it a good choice. If you need to take it down for travel or storage, the whole works folds flat. It even comes with a carrying handle, so you don't need to worry about pinched fingers.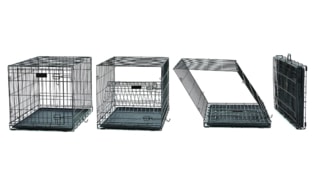 Slide-out Floor Tray
It also comes with a hard plastic floor tray that slides in and out without needing to take the crate apart. I have the smaller, 36-inch iCrate for one of my English Springer Spaniels. It's really handy to pull out the tray for cleaning. You can take it outside and blast it with a hose for a quick rinse and then wash it with mild soap or spray. After it's dry, I like to put a soft blanket on the tray for comfort.
Floor Protection
The iCrate also sports a set of rubber roller feet to keep the cage from damaging your floors. The iCrate in my house sits on a hardwood floor, and I frequently need to move the crate to get to a front room. I can do so without the metal scraping across the wood.
I also like the rounded corners on the iCrate, which help protect you and your dog from injury.
No Tools Needed
The iCrate also comes ready to assemble. You don't need any tools. It's a quick and straightforward process to unfold and set up the crate.
Need Another Door?
Lastly, there is a double-door option for the 42-inch iCrate. This is handy if side access is a better choice for where you will keep the crate.
Conclusion
There are plenty of choices for crates that will fit a boxer. Whatever crate you buy, make sure there is enough headroom (ideally 30 inches) for your dog. You can get an even bigger crate, but it's probably going to take up more space than is necessary.
For features and value, if you have a boxer I recommend the large size Midwest iCrate.
See the current price of the 42-inch iCrate with Divider now.