This post contains affiliate links, and I will be compensated if you make a purchase after clicking on my links. There is no cost to you, and I only recommend products that I would use.
Welcome to SportyDogGuide's Music For Dogs Home Alone recommendations!
A calm dog is a happy dog.
Unfortunately, there are many circumstances that can make dogs anxious and restless. A few of these might include:
Fireworks
Thunderstorms
Construction
Being home alone
Most of us have to leave our dogs home alone for part – or the majority – of the day, so we have to do what we can to keep them calm and content during our absence.
That's where music comes in.
For several decades, I've played music for my dogs when they are home alone. I started doing this because when one of my dogs was younger he had separation anxiety that became severe. Playing music in the background seemed like the smart and compassionate thing to do. Eventually, he got over his anxiety and was able to be in the house for hours without any problems. The one constant was music.
For years, I would let classical music play in the background as I thought it would be the most relaxing option for my dogs.
Turns out, I was partly right – and partly wrong!
What Music is Best For Dogs?
You can find all sorts of music now intended to help dogs relax when owners are away. There are even CDs, such as Through A Dog's Ear with soothing compositions to keep your pooch pacified. You can put one of these discs in a CD player, hit the repeat button, and let it play while you're away.
But you might do better by your dog mixing up the music.
That's what scientists have discovered.
One study by the Scottish SPCA found that classical music helps dogs relax when they were placed in rehoming centers.
The BBC reported, "During the study, dogs' stress levels decreased significantly after the music was played into their kennels. However, the effect only lasted for a short period, with behavior returning to normal after one day in some cases. The researchers suggest that this might indicate that dogs, like humans, prefer to listen to a variety of music."
Soft Rock and Reggae Keep Canines Calm
Researchers from the University of Glasgow conducted a study to determine if kenneled dogs exhibit less stress when exposed to different genres of music. In the published findings, they revealed that dogs had lower stress levels when they were played Soft Rock and Reggae, with lesser effects when played Classical, Motown and Pop.
They also learned that dogs spent significantly more time lying down – versus standing – when any genre of music was played. And they were also significantly more likely to start barking when the music was turned off.
Based on these findings, I now offer a variety of music for my dogs when they are home alone via two local public radio music stations. They play a variety of music throughout the week, so my dogs get to hear everything from classical and jazz to blues and the Grateful Dead – and even reggae! The hosts generally have pleasant speaking voices that give it the human touch. Commercial radio is often jam-full of ads from auto dealers that have jarring volume jumps. Stay away from such stations. Your dog(s) will thank you.
Best Devices for Playing Music for Your Dog
When it comes to playing music for my dogs, I prefer an old-school broadcast radio or receiver over bluetooth or other streaming devices because the signal isn't dependent upon your Internet/wireless speed that can sometimes be affected by weather.
If you already own a radio or receiver there's no reason to buy anything else. Dial in a commercial-free music station and let it play.
My go-to device is a tabletop radio.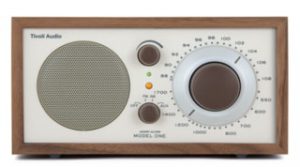 I purchased a Tivoli Audio Model One Radio about 12 years ago and it has served me and my dogs well ever since. I like it because it is simple – just 4 controls to navigate – portable, stylish and has decent sound for a single-speaker system. However, the quality control seems to have suffered with these radios as of late so I can't fully recommend it in its current version.
A good alternative is the Sangean WR-15. Like the Tivoli, it's dead simple to operate, looks good and can tuck nicely away into a bookshelf or counter. One drawback of the Sangean and Tivoli is because they are analog, the radio signal can sometimes drift. You can fine tune, but not to the degree of precision you can with a digital tuner. Another drawback – though minor – is they must be plugged in to work. There's no option to charge an internal battery so you can then use the radio as a wireless device.
If you prefer bluetooth, there are no shortage of options.
Some bluetooth devices, such as the iCalmDog Portable Speaker, come preloaded with music on Micro SD cards designed specifically to relieve canine anxiety. Portable speakers are convenient if you need to frequently move them from one room to another. They can also hold a charge for several hours, so you can set them far from a power outlet if necessary. And with bluetooth, you can also stream from music services such as Spotify.