This post contains affiliate links, and I will be compensated if you make a purchase after clicking on my links. There is no cost to you, and I only recommend products that I would use.
Many dog breeds love water.
Labrador Retrievers and Newfoundlands are well known for their love of water and swimming ability.
But not all dog – and water – lovers have the space for a large or giant breed dog.
So if you're looking for a big swimmer in a smaller body, here are 5 smaller dogs that love H2O.
All share a hunting heritage, but they also make great family dogs.
Just add water!
Smallest Water Dogs
Brittany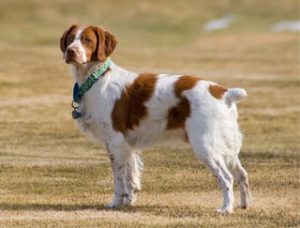 The handsome Brittany (aka Brittany Spaniel) is best known as a superb all-around bird dog. While this breed certainly has a nose for birds in the field, it's also a strong, eager and capable swimmer.
Originating in western France, the Brittany was bred hundreds of years ago by French Hunters to be a complete field and water companion.
These savvy, well-rounded dogs range in size from 30 to 40 pounds, according to the American Kennel Club, and stand between 17.5 inches and 20.5 inches tall.
Brittanys are great dogs for active households. What they lack in size, they more than make up for in spirit and loyalty.
Watch this pair of Brittanys follow their kayaking owner to an island lake.
American Water Spaniel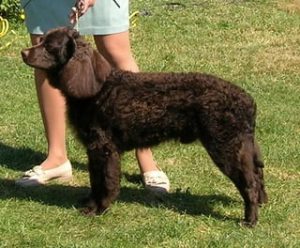 If you've never seen an American Water Spaniel before, you're not alone.
Even though the breed was developed in the United States, the American Kennel Club notes there are only about 3,000 individuals in existence. Still, the breed has a following, especially in Wisconsin where it is also the state dog.
This mid-size spaniel was bred by immigrants to the Great Lakes region to be an all-around hunting dog. And with its thick, waterproof coat, webbed toes and thickly padded feet, the American Water Spaniel is as at home retrieving from a duck boat as running on dry land.
American Water Spaniels range from around 25 to 40 pounds for a female, with males tipping the scales between 30 and 45 pounds.
See the American Water Spaniel's love of water (and retrieving ability) in the video below.
Boykin Spaniel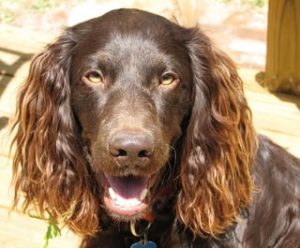 The charming Boykin Spaniel has an interesting and relatively recent history. It gets its name from Boykin, a small community in central South Carolina. Sometime around 1900, a Boykin resident named Alexander White found a brown-colored spaniel outside a Spartanburg, SC, church.
White adopted the dog and introduced him to hunting and retrieving, letting the dog work side by side with White's own retrievers. He discovered that the newcomer was a natural duck retriever and asked Whit Boykin – a descendent of the community's founder – to help further train this intriguing dog.
Boykin likewise became fascinated with the dog, noting that it was also excellent in the field, flushing and retrieving wild turkeys. He developed a program that included breeding crosses with English Springer Spaniels, American Water Spaniels, Cocker Spaniels and Chesapeake Bay Retrievers.
Eventually, the breed now recognized as the Boykin Spaniel emerged. It has since become the official state dog of South Carolina, and breed enthusiasts celebrate September 1 as Boykin Spaniel Day.
Female Boykins range from around 25 to 35 pounds, while males are generally 30 to 40 pounds.
Boykins take to water naturally. Watch this sweet 11-week-old puppy swim and retrieve like she had been doing it all her life.
Spanish Water Dog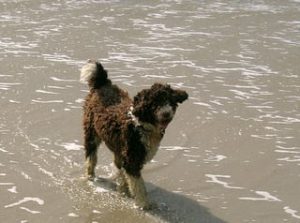 When you have "water" in your name, you're probably an excellent swimmer. And the eager-to-please Spanish Water Dog certainly fits the bill. This member of the poodle family is a natural athlete.
Spanish Water Dogs are energetic, versatile dogs. They were traditionally used by farmers living in the Iberian Peninsula for everything from livestock herding to retrieving waterfowl.
These curly-coated canines range in size from around 31 pounds for a small female to just under 50 pounds for a large male. Spanish Water Dogs enjoy playing a game of fetch in and around the water – even splashing around in a swimming pool! They also make reliable watchdogs.
From across "the pond" in Ireland, comes this footage of a Spanish Water Dog named Marley. Watch him enjoy a swim-and-retrieve in the clear waters of Loch Foyle, County Donegal.
Nova Scotia Duck Tolling Retriever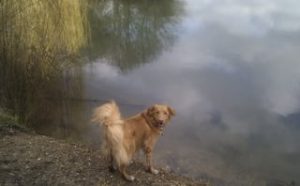 The Nova Scotia Duck Tolling Retriever is the smallest retriever recognized by the AKC. Still, a larger male can push upward of 50 pounds. That puts the Tolling Retriever right on the edge of our "under 50 pounds" size restriction.
"Tollers," as they are known by their owners, were first bred for hunting in Nova Scotia in the early 19th century. The Tollers' penchant for playing around shorelines helped lure in offshore waterfowl for a better shot. They also mimic the behaviors of foxes, which waterfowl apparently find fascinating.
These lovable dogs have boundless energy and LOVE being in the water and around other dogs. They thrive on daily physical exercise, whether it's fetching a ball, taking a brisk walk or swimming.
Check out this gathering of Tollers having a watery blast – and also note the breed's characteristic high-pitch whine.