This post contains affiliate links, and I will be compensated if you make a purchase after clicking on my links. There is no cost to you, and I only recommend products that I would use.
Welcome to SportyDogGuide's Best Dog Ladders for Duck Boats review!
Many dogs love water. But some sporting breeds, such as retrievers and spaniels, are truly at home when they're doing what they were bred to do – swimming and retrieving. It's part of what makes them such good duck dogs.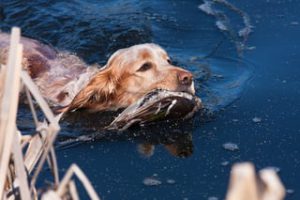 A good duck dog is arguably as important as a good duck call when it comes to waterfowling, so you'll want your dog to be able to get from boat to water and back into the boat with minimum effort. A good duck boat ladder will make it easy for your dog to get in and out of the boat without commotion or slipping.
What Makes A Good Duck Boat Dog Ladder?
Dog ladders for duck boats should be neutral colored to blend into the surroundings, easy to install, sturdy, and easy for your dog to navigate safely in and out of the boat.
The Best Dog Ladder for Duck Boats?
Wondering, "Who makes the best dog ladder for boat hunting"?
We're going to look at 7 dog ladders to find the best choice for you, your dog and your duck boat.
Recommended or not? Read on!
1. Beavertail Aluminum Folding Dog Ladder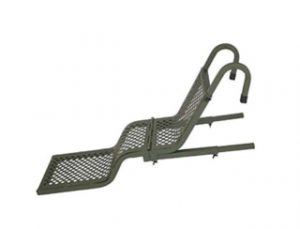 The Beavertail folding ladder is a two-way dog boat duck ladder that features a metal mesh across the ladder. While this model is easy to set up and adjust, quality control is a concern. Some customers have had problems with the ladder's thumb screws and adjustment threads stripping out during use. Others have noted their dog struggles trying to navigate the slippery surface.
See Current Price
PROS
Lightweight aluminum and stainless steel construction
Easily adjustable to fit most mounting situations
Folds in two to save space and for easy storage
Works with any low-profile aluminum boat
Open top with no barrier between steps and boat
CONS
Steps can be slippery
Surface of the ladder has numerous circular openings where dog's nails and toes can get caught
Hardware could be beefed up
Not wide enough for larger, broad-shouldered retrievers
Dimensions: 23 inches x 11 inches x 7 inches
Weight: 9 pounds
Bottom Line: Not Recommended
2. MOmarsh Tree and Boat Ramp Stand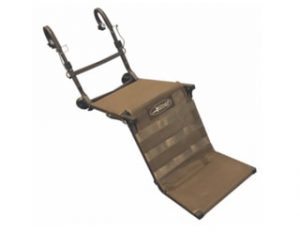 Momarsh's stand is a dual-purpose model that can be used to help your dog in and out of a boat or as a dog seat in a tree. The design makes it a natural for deep water use, giving your dog a step/platform to first board. The Duramesh surface resists abrasions and tears while providing comfortable footing for your dog. Three straps run horizontally across the vertical section, creating a ladder with extra footing. The top serves as a final step/platform for your dog to enter the boat.
See how this versatile unit can go from ladder to stand in the water:
PROS
The drop-down design provides an extra step/platform that makes this a great choice for deep water
Easily attaches to gunwales
Fabric is gentle on dog's feet
Two products in one – you get a boat ramp and tree stand for one price
Open top with no barrier between steps and boat
Folds up for easy transport
CONS
Weight – at 15 pounds, it's a bit heavy
Price – it's at the upper end of duck boat dog ladders
Dimensions:
Weight: 15 pounds
Bottom Line: Recommended as One of the Best Dog Ladders for Duck Boats – See the current price on Amazon now. 
3. Beavertail Steath Dog Ramp
This option from Beavertail is made of polyethylene and designed specifically for Stealth 1200 and Stealth 2000 boats. It's designed to attach to the rear handles of the 1200 and 2000, and can be swung out of the way when not in use.
See Current Price
PROS

Good color for marshy environments
No openings for dog's feet to catch on
Back-slanted steps provide good footing across platform
Custom-fit for Stealth 1200 and 2000 boats
CONS
Need to pull out of water if you want to paddle your Stealth boat efficiently
Weight of a dog can cause the step to move or sink into the water
Cumbersome to bring back into the boat if steps fill with water
Only useful for owners of Stealth 1200 or Stealth 2000 boats
Dimensions: 36 inches x 18 inches x 12 inches
Weight: 10 pounds
Bottom Line: Not Recommended
4. Avery Sporting Dog Dog Ramp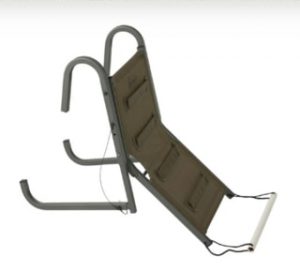 Avery's Sporting Dog Dog Ramp, like the MOmarsh stand, uses fabric for the ladder's surface. However, this ramp features four grip steps sewn in like pockets that provide extra footing. The lower back frame supports are curved to rest against the bottom of your boat. There's also a plastic bar tethered to the bottom of the ramp, similar to the steps on a folding rope ladder.
PROS
The hooks are easy to set into place and adjustable to fit your boat
The ramp extends to 28 inches but folds down into a compact 14 inches
Lightweight – the unit weighs just 6.5 pounds, making it easy to transport and set up
Grip steps help your dog maintain footing climbing out of the water
Open top with no barrier between steps and boat
CONS
Needs better documentation for set up
Dimensions: 24 inches long x 16 inches wide (between the arms)
Weight: 6.5 pounds
Bottom Line: Recommended as One of the Best Dog Ladders for Duck Boats
See the current price on Amazon here. Note, the product image shown there is incorrect. The image on this page is the actual model.
5. Gator Trax Dog Platform – Gunnel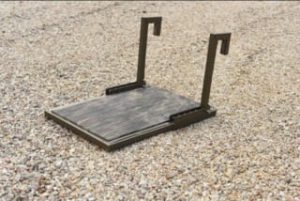 The Gator Trax Gunnel is a nicely designed duck boat dog platform that is simplicity in action. Similarly, all you have to do is adjust the gunwale clamps into position, hang them and it's ready to use. The deck is covered with hydroturf, a closed-cell foam that repels water. A series of grooves in the hydroturf ensure solid footing. The platform is made from sturdy aluminum; consequently, it should last many years.
PROS
Simple to install
Sturdy
Hydroturf surface on the platform provides sure footing for your dog
Level platform makes it easy for your dog to shake off before getting back into the boat
Open top with no barrier between steps and boat
CONS
Price – this platform is the most expensive of all those reviewed here
Not the best design for deep water
Dimensions: 25.5 inches x 18 inches
Weight: 12 pounds
Bottom Line: Recommended as One of the Best Dog Ladders for Duck Boats
You can order the platform directly from Gator Trax.
6. Load-A-Pup HD
The HD from Load-A-Pup is intended for use on boats 14 feet or longer with sides 15 inches or taller. It's constructed with strong but lightweight aircraft aluminum and supported by two aircraft suspension cables. There are six points on the back frame where you can adjust the height to set the platform at or just below water level. Some customers have complained that the J-bolts extend too far into the space where your dog must come up the ladder, creating a potential hazard, and have trimmed or modified them to create safer passage.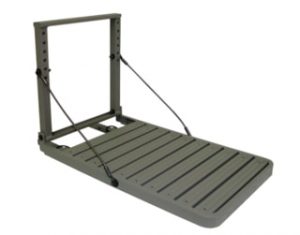 See the Load-A-Pup HD Dog Ladder in action:

PROS
Solid construction
Lightweight at 7 pounds
Platform has good amount of surface area for your dog to stand/shake off
Holds up to 200 pounds
CONS
Depending on the set up, the top bar on the platform can make it difficult for dogs to pass over
J-bolt mounting system could be better
Not the best choice for taller boats
Dimensions: 24.5 inches x 17.5 inches x 3 inches
Weight: 7 pounds
Bottom Line: Recommended with Reservations – Order yours here.
7. WAG Boarding Steps LM-6H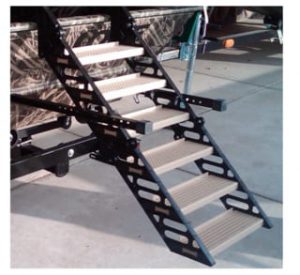 This duck boat ladder from WAG is a true ladder, with six steps that create a vertical rise of 24 inches to the gunwale or transom lip of a boat. The LM-6H features reversible, modifiable hooks and uses adjustable struts to fit different hull designs and shapes.  Two side struts have rubber bumpers to protect your dog and your boat's hull. The company touts the LM-6H can hold up to 130 pounds, therefore making it suitable for any size duck dog. It is available in two color patterns: marsh grass tan (shown here) or oak moss green.
Here's a short clip of a retriever using the WAG Boarding Steps:
PROS
6 steps (each 4 inches deep) provide plenty of distance from boat to water and easy access from deep water
Top of steps have slip-resistant surface for better footing
Each step has a toe plate at the back to prevent your dog's feet from sliding
Open top with no barrier between steps and boat
Steps contain closed-cell polyethylene foam which enables them to float if dislodged from the boat
CONS
Won't work on all boats – see fitment requirements
No platform area for your dog to shake off
Requires more set up than other models
Price – second highest-priced ladder reviewed here
Fitment Requirements for the LM-6H:
Fitment requires a lip width of 3-1/2 inches or smaller, a flat lip section 15 inches wide or more, no obstructions inside of the boat within 3-1/2 inches of the top of the lip (hooks can be modified if less), and a freeboard (distance from top of lip to water level) of no more than 16 inches (less for bigger dogs).
Dimensions: 42 inches x 18 inches x 5 inches
Weight: 8 pounds
Bottom Line: Recommended as One of the Best Dog Ladders for Duck Boats – The LM-6H is available directly from WAG or from Amazon.