This post contains affiliate links, and I will be compensated if you make a purchase after clicking on my links. There is no cost to you, and I only recommend products that I would use.
Welcome to SportyDogGuide's Advantek Pet Gazebo review!
When is a kennel more than just a kennel?
When it's a gazebo – an outdoor shelter.
And when you can connect two kennels together to make more room for your four-legged friends.
Your larger four-legged friends.
That's what this kennel is all about…
Advantek Pet Gazebo Modular Outdoor Dog Kennel – Large 
The Advantek Pet Gazebo Modular Outdoor Dog Kennel is a low-profile, octagonal kennel with a variety of cool design features.
It comes in three sizes: small, medium and large. The panels are galvanized steel and feature an attractive golden finish.
The large gazebo measures 8 feet wide x 8 feet high x 8 feet across, which provides 512 cubic feet of space for your dog(s). Advantek has designed it for dogs up to 180 pounds, so it's a great choice for owners of large breeds. The large kennel is also worth considering if you have two or more labs, huskies or other comparably sized dogs.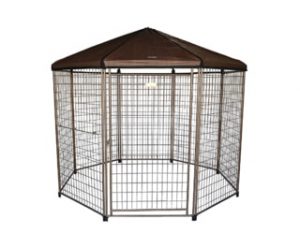 Even the large gazebo is designed to travel. If you own an RV and head south for the winter or go on extended trips with a larger dog, you can bring the kennel along and set it up for a safe, secure and roomy home for your best friend. Add an outdoor bed, some food and water and your dog will be living the good life.
Just as it is portable, this gazebo works great as an outdoor shelter on the deck, in the backyard or even in the house.
See Current Price
Easy Assembly – No Tools Required
Setup is straightforward and takes about 20 to 30 minutes to get everything into place.
And you don't need any tools. Everything is in the box.
You get 6 side kennel panels, 1 gate panel and 1 window panel. There are 16 nylon panel connectors, 8 elastic ball-ties, 8 roof-support arms and a hub/cap pair for the roof.
The panels fasten with the nylon panel connectors (all the same size so there's no way to mess it up!).
Two-Way Roof
The roof is a reversible polyurethane cover that locks the side panels into place and also helps regulate the temperature. One side of the cover is brown, while the other is white. Use the brown side when the weather is cold to help absorb warmth from the sun,  and the white side in warmer weather to reflect the heat.
Safety Gate
The front gate has a drop-in latch with a double-safety feature. To open the gate, you must first lift and then twist the latch. This is to prevent dogs from lifting the latch with their noses to escape the kennel. You can also use a carabiner to ensure the latch won't open without unclipping it.
Side Window
One side panel features a drop-down "window," which gives you access to the kennel without opening the front gate. That's handy if you want to toss in treats, toys or just to pet your dog while keeping him or her safely inside the kennel.
Connect Another One for More Dog Fun
Another cool feature is being able to connect one Advantek Gazebo to another one. It's a simple matter of detaching one side panel and its nylon connectors and then reattaching them so they face outward. No additional parts are required.  This modular design makes it possible to link two or more kennels together to create a canine gazebo community.
Outstanding Features
Simple setup – no tools required to assemble or take down
Built for travel or for home
Versatile – modular so you connect two or more gazebos for a run of kennels
Reversible cover for cold and warm weather
Locking door keeps your dog secure
Drop-down panel makes it easy to keep your dogs secure while giving them food, treats, toys and water
Two-step gate latch for extra safety
Customer Reviews
Some have called it this the best kennel around, while others love it because it is sturdy, easy to assemble and take down. There are many repeat customers who have purchased at least two after using the Advantek Kennel and seeing how it's made their's and their dog's lives easier.
Caveats
I would not advise buying one of these gazebos if your dog is out of control or a true escape artist and likely to run into the panels, as the kennel could be compromised.
Giant breed dogs will fit into this large kennel, but I think it's better suited for one large dog or two or three medium-size dogs.
And it does need a level surface for stability, so it's not intended for a slanted yard or the like.
Lastly, it's best to use the kennel with the roof installed, as the roof-support arms provide extra stability and keep it from being tippy.
Conclusion
Whether you're looking for a permanent outdoor kennel solution or want something to house your dogs while on extend trips, the Adventek Large Pet Gazebo is a great solution for large dogs or a pair of medium-sized dogs. All the steel and nylon parts are covered by a 5-year warranty, and there are several options for free shipping available on Amazon.
See the current prices here.