This post contains affiliate links, and I will be compensated if you make a purchase after clicking on my links. There is no cost to you, and I only recommend products that I would use.
Dogs spend 50% of their day sleeping, 30% of their day resting, while the other 20% is spent being active
That means they spend a lot of time relaxing. Giving your dog a comfortable and clean bed is one of the best ways to help him or her make the best of that downtime.
Think about when you go to bed at night. You lie down to sleep and recharge for the next day. That's not easy to do if your bed is uncomfortable, too small, too warm or too cold. If so, you're not going to sleep very well.
Dogs might not be as picky as humans when it comes to sleeping arrangements, but I've seen plenty of instances where a house might have more than one dog bed and one dog favors one bed highly over the other. That's why picking out the right bed initially will benefit you and your dog in the long run.
If you're looking for a dog bed for your Alaskan Malamute, you'll be facing a bewildering number of choices.
In fact, a quick search on Amazon for "dog bed" brought more than 30,000 results!
Who has time to wade through that mess?
I'll simplify things by first picking out the right style of bed for an Alaskan Malamute and then we'll find that perfect bed.
Best Style of Dog Bed for Alaskan Malamute
The best type of dog bed for an Alaskan Malamute is an elevated dog bed.
There are many reasons why an elevated bed is better for a malamute then a standard floor bed.
Elevated Beds Help Your Dog Keep its Cool
Because malamutes have a thick double layer of fur, they are more suited for cold weather than they are warm weather. That means when they're laying on a bed, it can be a challenge stay cool.
Elevated dog beds, by their design, keep dogs off floors and allow plenty of airflow around and underneath. This makes it much easier for a thickly furred dog like a Malamute to stay comfortable even during warmer weather.
And if you live in a warmer climate, such as the southeast or southwest, your dog will benefit year-round from an elevated bed. You can easily move the bed close to an air-conditioning duct in the summer and allow cool air to circulate around the bed.
Elevated Dog Beds are Easy to Clean
Elevated dog beds are also much easier to clean and keep clean than pillow-style beds. Elevated beds are common in places like kennels for this very reason. With so many dogs coming and going, it's very important to have a bed that can be cleaned easily. Pillow-style beds are certainly cozy and cushy, but they tend to be hair magnets and require machine washing when they get dirty.
It's a challenge to keep cushioned dog beds from smelling up the house, particularly if your dog is prone to getting dirty or wet and then laying on a bed. The dirt and wet sink through the surface and into the lining, which means you have to pull the bed apart to really get it clean. And let's face it, trying to wrestle a large block of foam back into a bed cover doesn't get easier with time.
By contrast, the fabric surfaces of elevated dog beds are easy to clean with soap and water and rinse with a hose. They also dry quickly. You don't have to take anything apart or worry about stuffing your washing machine full to the gills with giant dog bed parts.
There are many elevated dog beds on the market. And you might try to buy the least expensive model to save money. That's understandable. But many people have tried this and regretted it later. It ends up being even more expensive when you have to buy a different bed, either due to poor construction or the fact that your dog is a chewer and has destroyed the first bed you've purchased for him or her.
I Want It All!
People are always looking for the silver bullet when it comes to dog beds. They want something that is "indestructible," or comes with a warranty against damage – or both!
But here's the thing:
There's no indestructable dog bed. Never has been and never will be. A bed may be very resilient to damage, but there's always a dog that can break down almost anything you give it.
The good news is:
You can get that warranty and have peace of mind for a full year.
But you need to buy the right bed.
So what is the right bed?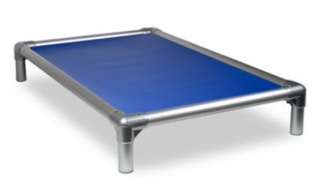 The Kuranda All-Aluminum Dog Bed is the best choice for an Alaskan Malamute.
Here's why:
This bed features super sturdy construction and can take a ton of abuse. It sports an aluminum frame that is both lightweight yet capable of withstanding the punishment that dogs often dish out with their nails and teeth.
In fact, Kuranda calls it "chewproof."
And the bed's corners and legs are also aluminum, so there are no weak points to worry about.
The hardware is rustproof, so you can put use this bed inside and outside.
You can even put the bed in a crate or gazebo if your Malamute uses one.
Kuranda also makes its dog beds here in the United States, and the quality is evident.
Kuranda uses extra-strong 40-ounce vinyl fabric not just for support but to keep digging-inclined dogs from puncturing a hole through the bed. Watch this pair of Boxer puppies try – and fail – to bust through a Kuranda bed.
Kuranda vs Coolaroo Elevated Dog Bed
One thing that separates Kuranda beds from other such as the Coolaroo elevated dog bed, is that the vinyl fabric on a Kuranda bed is contained entirely inside the frame, which makes it very difficult for a dog to chew.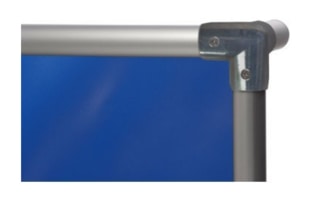 By contrast, the corners on Coolaroo beds are open, leaving fabric exposed. This isn't a problem for well-behaved dogs. But if you have a younger or mouthy dog, I recommend investing in the Kuranda as it's guaranteed to withstand these types of activity. And should you get an another Malamute in the future, whether a young dog or a puppy, you'll be guarded against having a bed destroyed.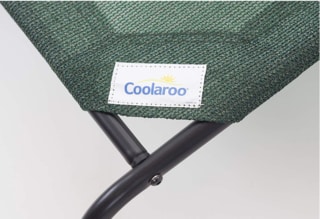 The hardware on the Kuranda bed is a better design, too. A pair of stainless steel fastening screws secure each corner and leg. Comparatively, the Coolaroo beds rely on single side fasteners. Some customers have seen these fail or need frequent tightening.
The closed corners on Kuranda beds are another nice feature. There are no open spots on the bed where your dog might accidentally stick a paw through and get tangled.
A 1-Year Guarantee
Kuranda beds are more expensive than Coolaroo beds, but they're more expensive for a reason. Kurandas are simply better beds, with better design, better features and a 1-year warranty.
Here's how Kuranda words its warranty: " We guarantee the structural integrity of the frames and fabrics of our dog beds for a period of one year from date of purchase. Accordingly, we will replace frame parts and fabric damaged by dogs to the point of not being useable at no charge during this period. This warranty also includes chewing of corner fittings and legs."
That means you're covered for the first 365 days after purchase from having to buy another bed.
When You Shouldn't Buy an Elevated Dog Bed
I don't recommend elevated dog beds for dogs that have hip or joint problems. That's because with elevated beds, your dog will have to either reach up and climb in or hop onto the bed and then hop off.
That on-and-off activity can create extra strain on a dog's legs and joints. In such cases you're better off with a memory foam bed such as this nice bed from Friends Forever.
The trade-off being that these types of beds are not as good at helping a Malamute dissipate body heat as an elevated bed. And cleaning is more of a hassle.
What Size Bed for an Alaskan Malamute?
Alaskan Malamutes are large dogs, weighing between 75 and 85 pounds on average according to the American Kennel Club.
The best bed size for a male or female Alaskan Malamute is Kuranda's XL, which measures 44 inches long by 27 inches wide by 9 inches tall. Such a bed gives your dog plenty of room to stretch out, with a resting area of approximately 40 inches long by 24 inches wide. And this bed can support up to 250 pounds, which makes it great for sharing. You can even join your dog on the bed!
How To Assemble a Kuranda Elevated Dog Bed
With most pillow-style beds, you can bring them home and just drop on the floor and call it good. The Kuranda elevated dog beds do require a bit of assembly.
But don't worry:
It's easy.
This short video demonstrates how quickly the whole thing comes together. Your dog can be enjoying his or her new bed in less than 10 minutes. Although this demo is completed with power tools, you can easily use regular hand tools, too.
Reviews – Big Love from Customers
The Kuranda All-Aluminum Dog Bed is one of the highest-rated dog beds on Amazon, with nearly 90% of customers giving it a 5-star recommendation.
Dog owners love it for its durability, with many enthusiastically calling it, "chewproof," and capable of standing up to use from multiple dogs of all different breeds.
There are plenty of cases of "buyer's remorse" from those who tried to go on the cheap only to realize that the Kuranda bed was the most economical in the long run.
Whether you have one Malamute or a pair; whether you breed dogs or have multiple pets, the Kuranda Elevated Chewproof Dog Bed is an excellent long-term solution for nearly any dog owner.
Conclusion
The Kuranda All-Aluminum Elevated Dog Bed is a natural match for Alaskan Malamutes or other dogs with thick hair.
It provides excellent orthopedic support
It's easy to clean
It's durable
And guaranteed against damage.
The bottom line:
Kuranda makes one of the best dog beds available, elevated or otherwise. Its All-Aluminum Elevated Chewproof Dog Bed is a great choice for nearly any breed. It's not the cheapest nor is it the most expensive dog bed out there, but it's an incredible value when you consider the construction, the usability and design, and the guarantee that Kuranda backs it with a 1-year warranty. I don't think you can go wrong with this bed.
The Kuranda All-Aluminum Elevated Dog Bed is available in your choice of 4 colors along with free shipping.
See Current Price