This post contains affiliate links, and I will be compensated if you make a purchase after clicking on my links. There is no cost to you, and I only recommend products that I would use.
I've spent many hours researching the best hunting dog chest protectors. Whether you need a bird or upland dog chest protector, you're likely to find the perfect one for your dog here.
Does Your Dog Need a Skid Plate Chest Protector?
Yes!
There are dozens of stories on the web about dogs who became injured while hunting or hiking.
One minute, the owner and dog are having a great time, the next minute the dog has run across a stick or another sharp obstacle.
You never know when your dog is going to run into a thicket or come across barbed wire running through a field. If that happens, your day – and your dog's day – can go from fun to frown in an instant.
If you hunt with your dog or even spend a lot of time in the woods, hiking or walking with your dog off leash, a chest protector can keep its belly from getting raw and red from rubbing against ground cover like brush and corn stubble. It can also help keep sticks and other dangerous objects from poking into your dog's chest.
What to Look for in a Dog Chest Protector
First of all, it should be rugged. The best dog chest protectors are reinforced with extra layers of protective material through the belly and chest area, where your dog is most likely to need it.
It must protect. You want sturdy fabric that resists burrs, thorns, corn stubble, prairie grass and anything else your dog might encounter in the field, woods or water. Underside protection is particularly important for dogs with short hair.
It should provide a secure – but not too tight – fit. A protector that is too tight can chafe and irritate your dog's skin.
It should be easy to put on and remove. You don't want to struggle for minutes outfitting a squirrely dog.
It should be water-resistant to shed rain, snow and other moisture.
Finally, it should be highly visible. Regardless of whether you hunt with your dog or not, a blaze orange protector makes it easier to watch your dog and it makes easier for other hunters to see him or her, too.
Open-Back versus Closed-Back Chest Protectors
Dog chest protectors typically have an open back or closed back. Open-back designs allow for plenty of ventilation on your dog's back and are great for warm-weather use. They'll protect the chest and belly but keep your dog from overheating,
Closed-back protectors wrap fully around your dog's torso and are best for cold weather or cold-water activities such as duck hunting. These models often have neoprene lining for extra warmth.
6 Best Dog Chest Protectors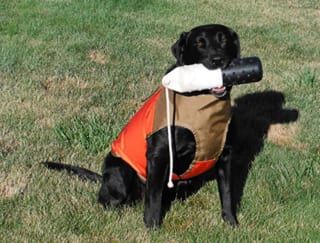 The CUGA Vest is a lightweight yet protective dog vest and chest protector. The belly plate features two layers of 1000 Denier Cordura to keep your dog's chest from injury while running through the woods or working birds in the field.
Take a closer look at the leg openings. These are nice and roomy, so your dog's underarms and legs won't chafe after a day's activities. The underside design allows male dogs to urinate when needed, so there's no need to cut any holes or pull off the vest when nature calls.
A generous 6 inches of loop Velcro and 2 inches of hook Velcro make it easy to adjust and secure across your dog's back.
The CUGA is available in 4 sizes: XSML-SML (Fits Most Sporting Dogs 25 to 45 pounds), MED (Fits Most Sporting Dogs 45 to 70 pounds), LRG (Fits Most Sporting Dogs 70 to 85 pounds) and XL-XXL (Fits Most Sporting Dogs 85 to 100 pounds). If your dog is in the "tweener" stage between sizes, I would recommend ordering a size up.
Happy customers love how this sturdy, protective vest keeps their dogs safe without overheating.
Machine washable and made in the United States.
Bottom Line: Highly Recommended and Top Pick for Upland Hunting and for Areas with Barbed Wire
See Current Price
No matter how big or small your dog, Hurtta's Worker Vest has you (I mean your dog) covered. The company offers its weatherproof vest in 6 different sizes!  Choose from XS all the way up to XXL, and you can get the vest in two sporty colors: Orange Camo or Green Camo.
The vest features a soft fabric lining for comfort, while the Cordura belly flap will keep your dog's chest protected. If you own a male, you can cut the flap to fit by following the guiding lines inside the vest. There's also a pair of attachment loops around the neck if you use a GPS collar.
To top it off, Hurtta treats these vests with Permethrin to help keep pesky biting insects and ticks off your dog. The vest is machine washable, and the treatment is good for up to 100 washes. (Note: Permethrin is toxic to cats, so keep this vest away from felines.)
Bottom Line: Highly Recommended and Great Choice for Hunting in Woodlands
See Current Price
DogonGear's Dog Hunting Vest is built for bird dogs and dogs active in field and other rugged environments. It features a triple-layer of sturdy, water-repellent fabric on the underbelly side and four layers of high-visibility fabric on the chest shield, and provides protection from the chest down to the belly.
The body of the vest has two Velcro straps that secure around the dog's body, while a clip-and-buckle goes around the neck. Customers love how easy the vest is to put on and adjust. Furthermore, they say it's very sturdy and offers great protection. Some have had problems with chafing, however. And you might have to do some cutting if you have a male dog, as the flap could cover his penis impeding his ability to urinate freely.
The vest is available in four sizes: small (15 to 30 pounds), medium (35 to 60 pounds), large (60 to 90 pounds) and extra large (9o to 150 pounds) sizes.
Bottom Line: Good but not the best choice
See Current Price
The Mendota Skid Plate is an open-back design featuring two layers of 1000 denier Cordura nylon for durability. This orange skid plate provides chest, stomach and side protection while leaving the neck exposed. It features an multi-point adjustable strap system with quick-release buckles for fast tweaking and removal. And the back straps can also serve as a handle if necessary.
Some customers have had problems with the plate chafing their dog's skin. Others have had great success with this protector. Available in small, medium, large and extra large.
Bottom Line: Good but not the best option
See Current Price
Filson Dog Chest Protector
Filson's Dog Chest Protector is an open-back design with a water-repellent blaze orange outer fabric and lined with dry finish 100% cotton Tin Cloth. The protector fits on your dog with two clip-and-buckle straps that go around the torso. A third buckle-less strap fits around the neck. It's available in medium (40 to 55 pounds), large (55 to 75 pounds) and also extra large (75 pounds and above) sizes. Customers like this protector for its toughness, good fit and how easy it is to take on and off. Filson backs it with a lifetime warranty. Unfortunately, it's becoming more difficult to purchase as Filson is frequently sold out.
Bottom Line: Highly Recommended
See Current Price
Sylmar Dogwear Body Guard Vest
Sylmar Dogwear makes two different styles of what it calls "body guard vests." The first is made from 500 denier cordura rip-stop nylon with an another layer of 1,000 denier cordura for the chest and body plate. For colder weather, consider the vest with 3 mm of neoprene lining sewn into the vest's inside. The vests rely on a neck opening and three straps that fall over the dog's back. Furthermore, these can be used as handles if needed. You can get both models in three colors: safety yellow, safety orange/black, or camo/tan. And you have a choice of 8(!) sizes, to find the perfect fit for your dog.
Bottom Line: Highly Recommended
See Current Price