This post contains affiliate links, and I will be compensated if you make a purchase after clicking on my links. There is no cost to you, and I only recommend products that I would use.
There are many times a waterproof dog collar is the best collar for a Golden Retriever.
Such as when your dog is:
Playing in the rain
Jumping in a puddle
Just being a dog!
Conventional nylon collars are strong, lightweight and good for everyday use.
But nylon collars are not so good in wet and/or muddy conditions. The fabric absorbs water and dirt and can remain damp and mucky until you wash it in a bucket of soapy water. And colors can also bleed.
Sometimes these collars are good for one season, and then you need to throw them out because they're too dirty or smell musty and moldy.
If your Golden Retriever loves to slosh around in water or you're just looking for a cleaner alternative to regular collars, consider one of the waterproof collars below.
Waterproof Dog Collar for Golden Retriever
Bond Pet Waterproof Dog Collar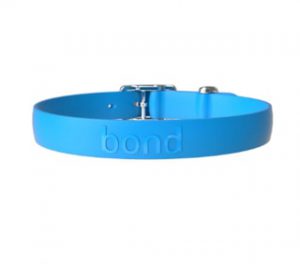 Bond Pet's Waterproof Dog Collars are touted as antibacterial, hypoallergenic and easy to clean. And they are.
It starts with the materials.
Bond makes its waterproof collars with Thermoplastic PolyUrethane (TPU) Rubber.
TPU is a versatile hybrid material that the American Chemistry Council says, "bridges the gap between rubber and plastics."
TPUs are known for their toughness and durability and are used in a variety of products including inflatable rafts, sport shoe soles and swim fins and goggles. If it works in those applications, it will certainly stand up to use as a dog collar.
Sizing
The collar comes in five different sizes, from XSmall to XLarge.
XSmall = 9/16 inches wide; fits necks from 9.5 inches to 11.75 inches
Small = 5/8 inches wide; fits necks from 12.75 inches to 15 inches
Medium = 7/8 inches wide; fits necks from 15.75 inches to 18 inches
Large = 1-inch wide; fits necks from 19.25 inches to 22.25 inches
XLarge = 1-inch wide; fits necks from 22 to 27 inches
The Large will be the go-to size for most adult Goldens, but make sure to measure your dog's neck to ensure a proper fit.
Bond recommends measuring your dog's neck with a soft tape measure, "making sure you can loosely slide two fingers between the neck and the tape."
Outstanding Features
Seamless design makes it more comfortable against your dog's hair and skin
Easy to clean
Doesn't absorb odors
Durable
Vibrant, attractive color options
Caveats
Some customers wish the collar had more holes (it has 4) for those in-between size dogs. In some instances, it was necessary to punch extra holes into the collar and/or trim the end for a better fit. A D-ring serves as the lone point of attachment for a leash.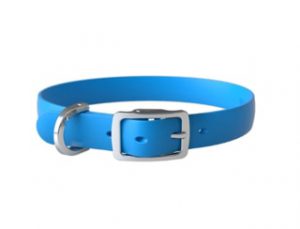 Conclusion
Overall, this is a terrific collar that is also one of the highest-rated waterproof collars on Amazon. I love its simple design and minimalistic look.
The Bond Pet Waterproof Dog Collar is available in your choice of four colors: blueberry, raspberry, pepper, and tomato. See them all here.
Dublin Dog All Style No Stink Dog Collar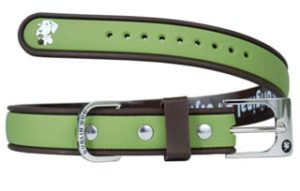 Dublin Dog's No Stink Dog Collars are designed to keep the bad smells away, while providing a durable and colorful collar for water-loving dogs.
These molded collars are made from an anti-microbial material that acts as armor against dirt and water. The collar won't rub against your dog's neck and is also easy to keep clean.
Sizing
This collar is offered in three sizes:
Small = 0.625 inches wide; fits necks from 11 inches to 14 inches
Medium = 1-inch wide; fits necks from 12.5 inches to 17 inches
Large = 1-inch wide; fits necks from 17 to 21.5 inches
If you're unsure about what size to order, print out this sizing template and use it to find the perfect fit for your dog.
Outstanding Features
9 holes make it easy to fit to your dog
Easy to clean
Resists odors
No inner seams
Durable, heavy-duty hardware
Cool colors
Caveats
A few customers have had problems with the collar splitting or tearing. Others mention that the buckle is heavier than expected. Some dog owners believe the collar is too stiff and not flexible enough. A few have said the collar has an unpleasant "rubber" smell.
Conclusion
The majority of customers who've purchased the Dublin Dog All Style No Stink Dog Collar praise it for its style, functionality, solid build and keeping the stink away.
Dublin Dog All Style No Stink Dog Collars are made in the USA and offered in six color styles. See the current price now.
Regal Dog Products Waterproof Dog Collar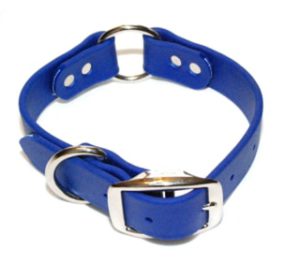 Regal Dog Products specializes in handmade dog collars, leads and leashes.
Regal's waterproof collar is made from a synthetic material called "TufFLEX," which is designed to mimic the look and feel of leather. Unlike leather, however, TufFLEX is waterproof and can be cleaned quickly with a damp sponge or cloth.
The material also resists odors, bacteria and mildew.
This collar has a vinyl-coated webbing that Regal affirms will stay soft and flexible, even in frigid temps. It also sports sturdy, nickel-plated hardware.
Regal offers it in six colors.
Sizing
Regal offers its waterproof collar in five different lengths. All are 1-inches wide.
15″ = fits 13- to 17-inch necks
17″ = fits 15- to 19-inch necks
19″ = fits 17- to 21-inch necks
21″ = fits 19- to 23-inch necks
23″ = fits 21- to 25-inch necks
Outstanding Features
D-ring and Center ring provide two points of attachment for leashes
Designed to remain flexible at temperatures as low as -20 Fahrenheit
Durable hardware
Very good value for the price
Caveats
There are limited product reviews, so the sample size is small.
Conclusion
Here we have another American-made collar that offers great value for the money. Customers say it's built to last, comfortable for their dogs to wear and a great choice for dogs that love to swim.
At around $15, it's hard to go wrong with this collar. Check the current price now.
Remington Orange 1-Inch by 22-Inch Waterproof Dog Collar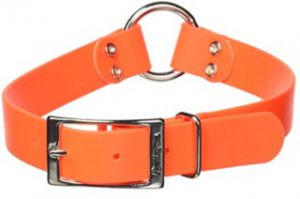 At less than $10, the Remington Orange Waterproof Dog Collar is a great budget-choice collar. It sports all-metal hardware and comes in a bright orange color that makes it easy to keep track of your dog in and out of the water.
Considering its modest cost, this is a well-built product with a history of over-delivering on value.
Sizing
One size = 1-inch wide; adjusts from 19 inches to 22 inches long
Outstanding Features
Excellent value for the price
Highly visible
Center ring makes it easy to attach a leash
Easy to clean
Doesn't stink
Durable yet flexible
Caveats
If you don't like orange, this collar isn't for you. And the 1-inch model is available in one size only, although it should fit the majority of adult Golden Retrievers.
Conclusion
Don't let the price of this collar fool you. Many customers have reported getting several years of use from one Remington collar. For $10, you can't find a better waterproof color anywhere. Get yours here.