This post contains affiliate links, and I will be compensated if you make a purchase after clicking on my links. There is no cost to you, and I only recommend products that I would use.
Martingale collars (also known as limited-slip collars or Greyhound collars) have several features that make them a great choice for greyhounds.
Safety First
First and foremost, Martingale collars are designed to prevent dogs from backing out of their collars.
This is super important because a greyhound's neck is wider than its head.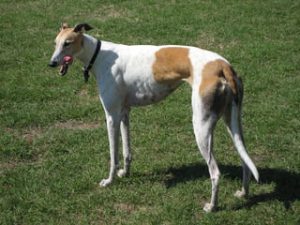 Conventional side-release collars work fine on many breeds, but greyhounds can easily slip out of them because their heads are so narrow. And a loose greyhound is bad news for owner and dog.
Escapes are prevented because Martingale collars feature two straps or loops. The primary strap is attached with metal rings to the "Martingale" strap. The Martingale strap is terminated with a D-Ring, to which you attach the leash.
When you or your dog  pull on the leash or if your dog tries to back out of the collar – the front loop tightens around your dog's neck for security.
Most Martingale collars (and all those recommended here) slip right over a dog's head, eliminating the buckle clasp seen on side-release collars. These buckles are usually the weak link of a collar. Should the buckle break or come undone, your dog can quickly get loose.
Humane Control
Martingale collars are a must for greyhounds, but many other dog owners love them because they offer a more humane alternative to choke and prong collars.
A Martingale collar tightens to a limited degree – but doesn't choke – when walking a dog on a leash. These collars also distribute the pressure evenly around the neck, not just the front of the neck like a traditional collar.
Therefore, Martingale collars better protect your dog's neck, throat and trachea than choke and regular collars while providing a high level of security.
What Size Martingale Collar Is Best For Greyhounds?
Martingale Collars for Greyhounds generally come in two widths: 1.5 inches and 2 inches. For many greyhound owners, a 1.5-inch wide collar provides the best combination of fit, security and fashion. This is also a popular overall size for female greyhounds and smaller males.
Larger males might require a 2-inch wide collar for best fit.
As far as length, most greyhounds will fit nicely in a collar ranging from around 12 to 18 inches long.  Make sure you first measure with a soft tape or string around the midpoint of your dog's neck, where you plan to place the collar.
And always purchase the smallest collar size that will fit your dog.
Best Martingale Collars for Greyhounds
If It Barks 1.5-inch Martingale Collar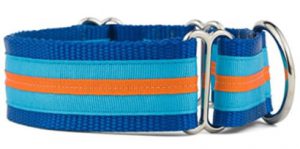 This 1.5-inch wide model from If It Barks is the most expensive of the collars recommended here, with a price tag of over $30. But it might be the best value on the market. Customers love this collar for its superb build quality, fabric that doesn't irritate dog's necks and the control and security it provides.
It's available in nine different color patterns and it's also handmade in North Carolina. If It Barks backs its Martingale with a warranty covering hardware or stitching failure. And it's machine washable.
The collar is available in three lengths: Small (11 to 15 inches), Medium (15 to 22 inches) and Large (19 to 30 inches). The small or medium should fit nearly any greyhound.
See the current price and color choices here.
Country Brook Design 1.5-Inch Martingale Heavy Duty Nylon Dog Collar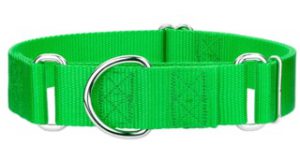 This Martingale collar from Country Brook Design is a screaming bargain. You can often find one for around $15. But don't let the low price fool you – this is a rugged and reliable collar that keeps you in control.
Country Brook's medium-size Martingale is the most popular size for greyhounds. It's designed to fit neck sizes from 15 to 21 inches. The company also offers a large to fit dogs with necks 18 to 26 inches and an extra large for 23- to 31-inch necks.
You can get this Martingale in your choice 10 colors, ranging from silver to pink.
It's a great collar at a great price. Get yours now.
Regal Hound Designs 2-Inch Martingale Collar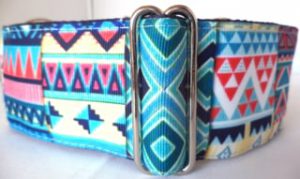 If you need a wider collar – and loads of style options – Regal Hound Designs is worth checking out. This Alberta-based company specializes in designer collars, and offers a 2-inch wide Martingale in over 100 color patterns! You can also get an adjustable matching lease, if you'd like.
Regal Hound 2-inch Martingales come in two lengths: Medium (13 to 18 inches) and Large/XL (17 to 26 inches). Most greyhounds will wear a medium. Customers say this collar is sturdy, comfortable for their dogs to wear and great quality.
There are a few color choices available on Amazon, with many more options if you buy direct from Regal Hound.
Prices quoted on Regal Hound's website are in Canadian dollars, so if you're buying from the U.S. you'll likely save a few dollars depending on the current exchange rate.