This post contains affiliate links, and I will be compensated if you make a purchase after clicking on my links. There is no cost to you, and I only recommend products that I would use.
Welcome to SportyDogGuide's DanForce HL-690 review!
Wouldn't it be great if you could always walk your dog on a nice sunny afternoon?
But you and I know that doesn't always happen. We have to walk our dogs when we can.
And often, we must walk our dogs at night. In the winter, it seems like it's ALWAYS night!
There are many reasons why we walk our dogs in the dark. It could be to avoid the heat of the day during summer or because the winter sun can disappear in the late afternoon. Many of us walk our dogs after work, when it's dark or getting dark much of the year.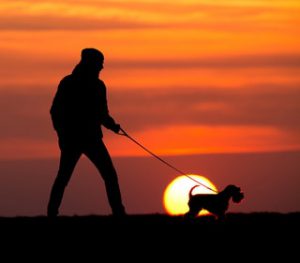 Dogs' eyes are adapted to work well in dim light conditions, but humans generally need help navigating in the dark.
Flashlights are an option, but they can be just as much of a nuisance as an aid. You need to have a free hand to use a flashlight, and if you're wearing gloves they can be clumsy to operate. It's also very easy to lose a small flashlight at night if you drop it and it rolls into grass or falls into snow. For hands-free use, a headlamp is the best tool to provide light during nighttime dog walks.
After much research, I believe the DanForce HL-690 Headlamp offers the best combination of performance to price ratio. It is a great choice for dog walking at night. You get hands-free illumination, and the HL-690 can be used for other activities such as backpacking, camping, working in dark spaces and more.
What's In The Box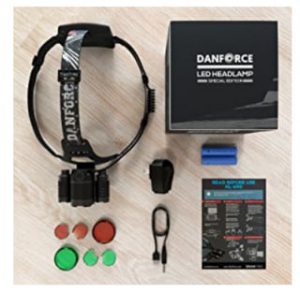 The HL-690 comes with everything you need, including 2 rechargeable batteries, a USB cable, a battery charger, user guide, and 2 sets of colored lenses (3 red, 3 green). It's available in three colors: Black, Blue, and Army.
The HL-690 can be operated in four different ways simply by pressing the button on the top of the large, central lens.
By itself, the central light provides medium light mode. Switch over to the two secondary side lights for low light mode, all three lights working together provide high mode light, and there is an additional strobe option in which all three lights flash together. There's also a red safety light on the back of the headlamp, which lets others see you from behind – a handy feature if your walks take you near car traffic.
The batteries provide up to 8 hours of service per charge.
The lamp's forehead is made with flexible ABS plastic, so it can be fitted to your head or over a cap. And the adjustable strap helps you get the right overall fit. There's also a sweat-resistant headband on the front of the headpiece for additional comfort.
Outstanding Features
6000 lumens produced by 3 Cree LED bulbs throw loads of  bright light
Rechargeable batteries keep operating expenses low
Batteries can be charged without removing them from the case
4 different light modes allow you to tailor the beam to your needs
Single-button operation makes it easy to switch modes on the go
Water resistant
7-year warranty
Very attractive price compared to other headlamps
Tested Tough
The HL-690 looks to be a very sturdy unit, too, if the video below is any indication. The folks at DanForce drop the headlamp into boiling water, repeatedly hit it against wood, set it on fire and even hit it with a baseball bat. If it can stand up to these abuses, the HL-690 should resist anything that happens while walking your dog.
Customer Ratings
The DanForce LED Headlamp has received overwhelmingly positive reviews from customers. More than 90% of reviewers on Amazon give this headlamp 5 stars. They praise it for its super bright light, long battery life, solid build, zoom feature, interchangeable lenses and affordability.
Conclusion
For performance, versatility and cost – and for its awesomely bright lights – the DanForce HL-690 is a winning headlamp for dog walking at night. See the current price here.