This post contains affiliate links, and I will be compensated if you make a purchase after clicking on my links. There is no cost to you, and I only recommend products that I would use.
Do you want to get fit running with your dog? Would you like to do something more exciting than jogging on the sidewalk? Do you want to keep your dog's mind active and alert? Canicross could be the sport for you.
All you need is a dog and three pieces of Canicross equipment to get started.
Basic Canicross Gear
You need three primary pieces of gear for Canicross:
A running belt
A running line
A pulling harness
The running belt keeps you and your dog attached while on the trails. It attaches around the runner's waist and has side straps that meet at the front where a ring or clip connects to the running line.
The running line – or running leash – attaches to the front of the running belt and to the dog harness. Lines are generally 6 -to 10-feet long and often made with bungee-like material to provide plenty of stretch. This "stretch" reduces the effects of shock on you should your dog pull or make a sudden jolt.
Pulling harnesses are for running and to absorb the shock of pulling. Running harnesses give runners better control over their dogs, and harnesses won't strain a dog's neck like collars can.
Beyond the belt, leash and harness, you just need comfortable running shoes and breathable gear to enjoy trail running with your dog.
Best Canicross Starter Kit
Getting the best Canicross gear for your money is easy. That's because I've spent hours researching the best gear to create a great Canicross Starter Kit.
Here's what you need.
Choosing a Running Belt
While Canicrossing, you need to wear a strong and secure waist belt. A good Canicross belt should be comfortable and should distribute the dog's weight evenly across your back and hips. The best belts feel like they're not even there.
One of the best Canicross belts is the CanaDog Canicross/Hands-Free Walking Belt.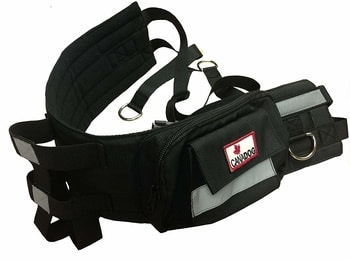 It is lightweight, ergonomic,  long lasting and versatile. And it has several features that make it a top choice for beginners and experts alike.
Fully adjustable for waist sizes from 28 inches to 52 inches to fit men's and women's body shapes
Lightweight – it weighs less than 13 ounces
The 4-inch wide padding helps minimize lower back strain
There are extra O-Rings on the sides you can use to it walk your dog in the heel position outside of Canicross activities
It also sports an elastic water bottler holder
What Harness Do I Need for Canicross?
Choosing a proper fitting and comfortable harness for your dog is vital. You want a harness that doesn't restrict your dog's breathing or pinch the shoulders. Harnesses are designed to help dogs pull, so the ideal harness will offer your dog a full range of motion while keeping both of you firmly connected.
A good choice is the Freemotion Harness. It's well-padded, provides a firm fit and is available in 7 different sizes.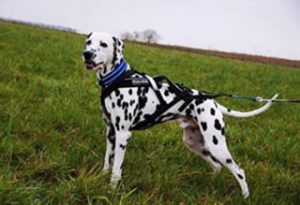 What is a Good Canicross Leash?
The main difference between a Canicross leash and a traditional walking leash is the Canicross leash must efficiently absorb the shock as your dog pulls against you and the running belt.
Shorter leashes can provide better control and keep your dog closer, while longer leashes offer greater freedom for your dog. Many feature quick-release connector snaps, should you need to let your dog loose while running.
This shock-absorbing leash from Dogs My Love is gentle on the runner and has a nice design.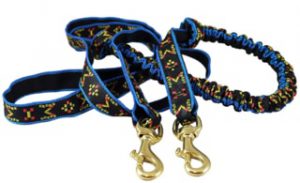 Basic Canicross Training
The best way to introduce your dog to Canicross is with consistent and gradual training sessions. A great way to introduce your dog to Canicross is through a class or local club, where he or she has the opportunity to run with other dogs. In any case, be patient and give your dog time to fully adjust to this new style of exercise. If your dog usually walks beside you, like most leash-trained dogs, the concept of running in front of you – even pulling you – will be new.
Pick a set of commands and stick with them. Some common Canicross commands include:
"Let's Go" or "Pull" to start running
"Right" or "Gee" to turn right
"Left" or "Haw" to turn left
"Hup Hup" to speed up
"Whoa" to slow down
"Stop" to stop
Start slowly, warming up first with a brisk walk. Then you can speed things up, alternating between walking and running. Remember to keep a moderate pace at first and work up to distance gradually. Your dog can run much faster than you. However, most dogs are bred to run fast over short distances and don't have the stamina to tackle long distances at the beginning. Make plenty of stops for water to be sure your dog stays hydrated, and don't run with your dog in excessive heat. Like with any training, always reward your dog with lots of praise when he or she does something well.
Best Places to Run?
Some of the best places to enjoy Canicross are on off-road woodland and forest trails. After the snow melts, cross-country ski trails are ideal for Canicross. They generally have a nice mix of gentle hills, turns and flat stretches to keep things fun without taxing you and your dog excessively.
Is Canicross Good for Dogs?
Canicross is a combination of cross-country running and mushing, with one or two dogs attached to the runner. It's hands-free running – in Canicross the dog is out front and controlled by the runner through commands and secured by equipment. As long as your dog is healthy and capable of running, then Canicross can be a very enjoyable way for your dog to get exercise.
Is My Breed Suitable for Canicross?
There are no specific breed restrictions for Canicross. It's really a matter of whether your dog is a good candidate for trail running. Is your dog healthy, fit, of right age and likes to run? Then, you are likely good to go! Obviously, very small dogs will have little pulling power, so think about if your dog is suited to running or better suited to walking. It's always a good idea to check your with vet to ensure your dog is healthy enough for running and for any other health-related question you have.
How Old Should My Dog Be to Start Canicross?
Your dog should be at least 12 months old to start Canicross. However, you can begin introducing your dog to wearing the harness weeks or months before you actually start training. Take your dog for a walk with the harness. It will give your dog time to become familiar and comfortable with the feel of things before you hit the trails.