This post contains affiliate links, and I will be compensated if you make a purchase after clicking on my links. There is no cost to you, and I only recommend products that I would use.
Stand-up paddling (SUP) is one of the fastest-growing sports in America. This hybrid between kayaking and surfing is a great activity for people of all ages. And it's one you can – and should – enjoy with your dog.
But paddle boards can be very dangerous for dogs without modification. Most traditional hard SUPs are built with Expanded Polystyrene Foam (EPS) and fiberglass. These boards are generally superior for tracking, control and overall performance. But the nose of the board – where your dog is likely to ride – is very slippery, so extra traction is needed to provide safe footing for your dog.
That's where a Paddle Board Dog Traction Pad comes in. These pads work like the larger traction pads on SUPs, where riders stand and paddle. Dog traction pads fit around the nose of the board, utilizing the space there to give your dog his or her own secure spot to ride.
With a self-adhesive backing, you can apply the traction pads to a paddle board much like a sticker. Just peel and press the pad onto the board and let the adhesive set.
The best paddle board dog pads are easy to apply, stick tightly to the board and give dogs a comfortable, grippy yet padded surface to sit or stand on as well as climb onto if they decide to hop off for a swim.
Let's look at 5 recommended dog traction pads for SUPs.
5 Best Paddle Board Dog Pads
The PUP Deck SUP Traction Pad, from Better Surf…Than Sorry, is a 1-piece pad that attaches to your board with a strong, self-adhesive 3M backing. The PUP Deck is made with 1/4-inch Flat Closed Cell EVA foam, a slightly softer version of regular SUP pads. It measures 27 inches x 19 inches and has 4 paw-print cutouts for a sporty touch. Customers have praised this pad, commenting that the PUP Deck is easy to install, durable, and gives dogs more confidence with its secure footing and a place of their own on the board.

Here's a short video showing the PUP Deck in action:
See Current Price
For a different and more colorful look, Better Surf…Than Sorry offers its PUP Deck SUP Traction Pad in a Paw Prints Style. It consists of two paw prints, a smaller 13-inch x 10-inch paw and a larger 14-inch x 20-inch paw. Each paw has 5 pieces – 4 prints and 1 paw pad. Individually, the large paws are 5 inches x 6 inches, while the large pad is 7 1/2 inches x 13 1/2 inches; the small paws are 3 1/2 inches x 4 inches, with the small pad measuring 5 inches x 9 inches. Depending on your board, you might use one or both of the paws to outfit your dog's riding area. Better Surf makes the prints with 1/4-inch thick EVA foam, backed with 3M adhesive. You can get the Paw Prints in four different colors: blue, coral, teal and slate. Customers like this pad not just for its looks but for its thickness, grip and how it keeps boards free from scratches.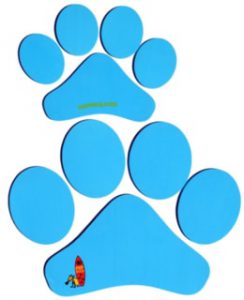 See Current Price
The SUP-Now Paddleboard Dog Traction Pad is another 1-piece pad with a 3M adhesive to keep the pad tight to your board. It features a diamond-groove design for sure traction and that allows water to slide off easily. The pad comes in three colors: black, coral and gray, and like the PUP Deck pad, it has cutouts of 4 paws around the edges for canine style. You can trim this pad with scissors, but since the paw print cutouts are near the edges you'll need to be careful to avoid cutting through them. The pad dimensions are 26 inches x 19 inches. Customer reviews are overwhelmingly positive, with kudos for easy application, excellent traction and overall quality.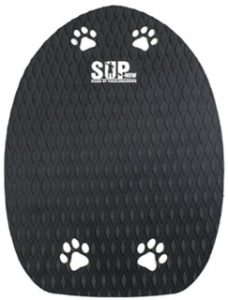 This video provides an in-depth look at the SUP-Now pad, from its un-boxing to being put on a board to cruising with a dog.
See Current Price
Punt Surf's Dog Traction Pad is a 4-piece peel-and-stick set. That means you can arrange the pieces to best fit your board and dog's needs. You can also easily trim the pieces with scissors. This EVA foam pad features a diamond-groove pattern for traction, and Punt Surf guarantees the pad will stick on your board forever. The pad is available in three colors – black, white and gray -and measures 23.5 inches x 18 inches. Customers give this traction pad high marks for its very strong adhesive backing, the ability to trim it for a custom fit and durability.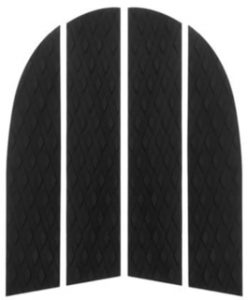 See Current Price
The Airhead Paws Pad is an EVA foam, 1-piece pad with self-adhesive backing. Airhead decorates it charcoal gray pad with 6 paw prints in a diagonal pattern across the middle of the pad. Customers like the Paws Pad for its easy installation, slip-free surface and its ability to protect boards from paws and claws. It measures 24 inches x 19 inches.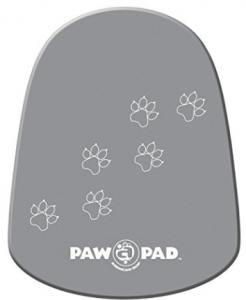 See Current Price
Conclusion
You really can't go wrong with any of these paddle board dog pads. Each one is characteristically easy to install, durable and large enough to accommodate dogs of most sizes. And each pad will give your dog the sure footing he or she deserves.
Pick your style. Put the pad on the board and get ready to ride. Your dog will be more confident on the water. And he or she will look forward to the next paddle board outing as much as you do.